By Elena del Valle
Photos by Gary Cox
Chef Le Squer and Restaurant Manager Patrick Simiand
Making dining choices in Paris can be challenging. A myriad restaurants await us depending on our culinary preferences and budget. Even in the rarefied top tier of gourmet dining there are many worthy options. For those who take the time to explore unexpected treasures can still be found. Hidden in plain site steps from the famed Champs Elysees is Ledoyen. Even among the city's culinary giants Christian Le Squer, the restaurant's reserved executive chef, stands out.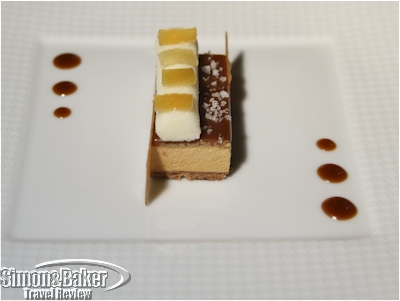 Caramel a la fleur de sel, Givré de Citron
We favor Ledoyen because since our first visit the restaurant has consistently delivered a superb experience. Over the years, the restaurant's blend of elegance and warmth have made us feel welcome while the cuisine has drawn us back. Although all our meals there have been outstanding, our most recent lunch stands out for its balanced perfection.