By Elena del Valle
Photos by Gary Cox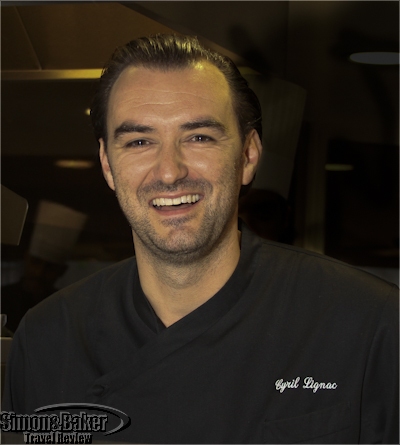 Cyril Lignac in the kitchen at Le Quinzieme Cyril Lignac
The week after dining at Le Quinzieme Cyril Lignac in the southwest corner of Paris we went across town to Cuisine Attitude (10 cité Dupetit Thouars,75003 Paris, France, +33 1 49 96 00 50, fax +33 1 42 56 15 46, www.cuisineattitude.com, ecole@cuisineattitude.com), a cooking school owned by Cyril Lignac, the restaurant owner and executive chef of Le Quinzieme, where we attended the first part of Christmas Petits Fours, a cooking demonstration with some student participation. While at the cooking school I had an opportunity to speak with the chef in English. We extend a special thank you to him for agreeing to a short English language interview. Click below to listen to our conversation.
Aude Rambour, executive chef, Groupe Cyril Lignac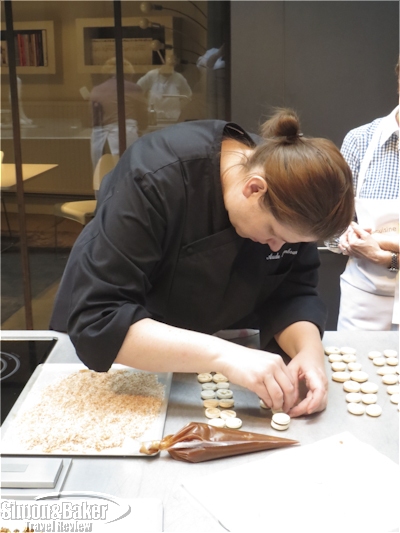 The executive chef  demonstrating macaron assembly
After a brief welcome and introductions Aude Rambour, executive chef, Groupe Cyril Lignac, prepared the dessert dishes with the assistance of her staff. She explained the steps in French while a small group of French students observed. At times, she invited one or more of the students to take turns trying some of the steps. During the morning session, she prepared four desserts: Almond and dry fruits macaroons; Chocolate truffles, passion fruit; Candied chestnuts, light Bourbon vanilla cheese cream; and Tainori dark chocolate tart, Yuzu sorbet.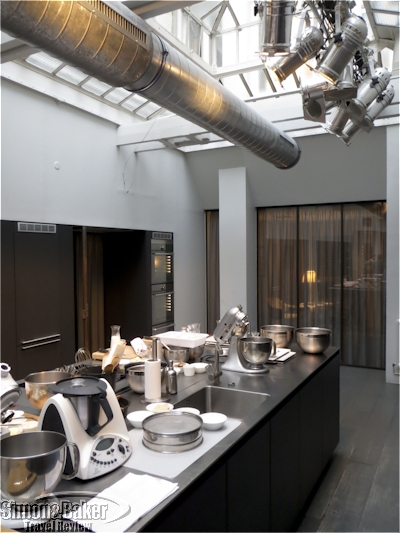 The teaching kitchen at Cuisine Attitude
Although the French language four hour program on holiday desserts was dynamic and fast paced, it was challenging to understand what was happening without any English language translation from the staff. We had understood someone would translate but the entire demonstration was conducted in French. A company representative informed us recently that an American chef has joined the group and is available to translate the sessions for English speakers.
---
---