Article and photos by Chester Godsy and Joni Johnson-Godsy
Looking out at the bush from Kitich Camp
In the 1920s, Martin and Osa Johnson traveled from the United States to remote places in Kenya and brought back stories, films and photographs that helped define the American idea of the African safari. Their book entitled I Married Adventure helped peak our curiosity about the mountainous region in Kenya north of Nairobi. It was exciting to imagine that on our trip we were recreating part of their journey nearly one hundred years later.
A Samburu warrior in traditional dress
The Samburu people of Northern Kenya live much the way they did back in the days of Martin and Osa Johnson. A Samburu village lies only a couple of miles from Kitich Camp, a walking safari tented camp part of the Cheli & Peacock portfolio, where we stayed on our trip to Kenya. Lamario, one of our guides, took us to this village and helped us bridge the gap between languages and cultures. The Samburu people we met were warm, curious and inviting. Only a few white skinned people had been to the village before us so curiosity was mutual. Visiting this village gave us insights into a time when a community was more important than an individual.
The dining area at Kitich with photos of local Samburu on the walls
A young woman in the village invited us into her home, where we spent time with her and asked her questions about the Samburu lifestyle and culture. We saw the creative ways they live in harsh, arid conditions. We learned about their lives, values and culture. We came away in awe of these people. We had an experience we will treasure for a lifetime.
The pool at Joy's Camp
From there we made our way southeast to Joy's Camp, its sister property in the Shaba National Reserve still north of Nairobi. Named for Joy Adamson, a well-known naturalist, artist and author, the camp offered comfortable accommodations dramatic views and good wildlife sightings as well as access to the nearby Samburu National Reserve.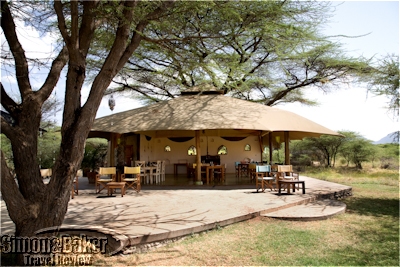 Part of the common areas at Joy's Camp