By Elena del Valle
Photos by Gary Cox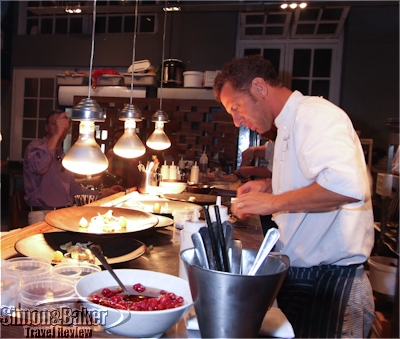 Chef Luke Dale-Roberts preparing plates at The Test Kitchen
On a visit to Cape Town, South Africa earlier this year we had dinner at two gourmet restaurants that although distinct from each other in many ways shared a common passion for fine dinning. One provided an urban chic experience and the other offered classic fine dining in a romantic setting.
"Shot Pigeon" at The Test Kitchen
For a hip urban dining experience we enjoyed the extended tasting menu at The Test Kitchen. Chef Luke Dale-Roberts was in his element blending common and exotic flavors. There was a long wait list for dinner reservations at the sold out restaurant with modern décor within the Old Biscuit Mill, a renovated mall in an industrial corner of the city. Although there was little activity in the shopping center at night inside the restaurant it was loud and fast paced. It was an entertaining evening. From our Chef's Table seats we had an opportunity to watch the chef and his staff up close at work in the open kitchen.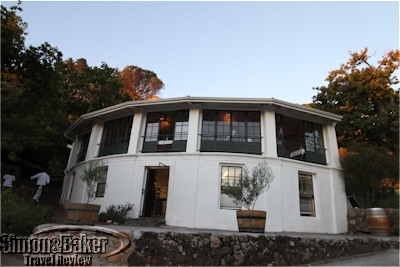 The Roundhouse Restaurant has a water facing view
The Roundhouse, a short drive from the center of the city, was the perfect setting for a romantic dinner. Many restaurants with a view such as theirs dedicate little effort to the meal and service. The opposite was true at the purportedly haunted property. A team of friendly and efficient staff in the dining room complimented the efforts of the kitchen staff, delivering a perfectly prepared and artfully served meal with wine pairings to match the sunset views of Camps Bay. Dinner that night combined gourmet dining and a stunning natural setting in one place.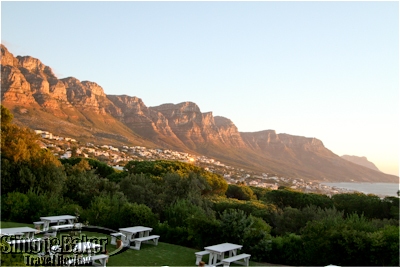 View of the Twelve Apostles and Camps Bay from The Roundhouse picnic area