Article and photos by Josette King
The Island Spirit
"How about an Alaska cruise?" a friend suggested as we were discussing potential travel destinations, "I hear the Alexander Archipelago is spectacular." I dismissed the idea with a reminder that I was not fond of cruises. "Stop holding a grudge," she laughed, aware that I have been ill disposed toward floating luxury hotels since one of them ruined my gelato break. I was sitting at a canal-side terrace of La Giudecca, the quiet island on the southern side of Venice, when a colossus the size of a city block ponderously glided its way down the canal, obliterating for what seemed an eternity my view of the Laguna and Basilica San Marco.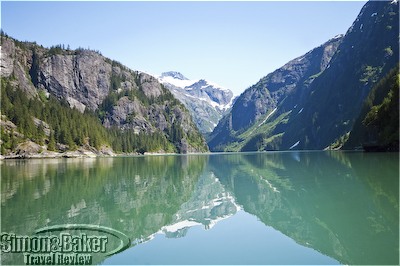 Ford's Terror mountains were reflected into the cove
But thoughts of the Inside Passage, as the Archipelago is often called, lingered. The 300-mile (500 kilometer) long, 100-mile (160 kilometer) wide area with over 1,000 islands and a labyrinth-like coastline of convoluted channels, deep fjords and active glaciers is considered one of the most stunning wilderness destinations in North America. I thought there had to be a way to get away from the common cruising lanes and meander through its remote reaches. There was.
The fjords abounded with high waterfalls
My nine-day journey on board the Island Spirit was akin to an invitation on the yacht of a friend who liked nothing better than sharing with his guests his passion for the pristine waters and breathtaking scenery of Southern Alaska. With its 25.6-foot (7.8 meter) beam and 7-foot (2.1 meter) draft, the powerful 128-foot (39 meter) long ship was just the right size to wend its way into narrow fjords and idyllic anchorages inaccessible to larger vessels. And with only 17 guest cabins that could accommodate a maximum of 32 passengers and a friendly crew of nine, it offered an intimate environment and laidback atmosphere that greatly enhanced my enjoyment of this exceptional wilderness experience.
Island Spirit captain Jeff Behrens
The ship's owner and captain, Jeff Behrens, constantly adjusted his loosely defined itinerary to make the most of the ever-changing weather conditions and optimize wildlife sightings while cruising at a relaxed 10 knots per hour along the most sought-after vistas of the Archipelago. We stopped for whales, orcas, porpoises and colonies of sea lions piled up on rocky outcrops. We slowed for seals hitching rides on drifting ice floes. For Captain Jeff, it was not enough to introduce us to narrow fjords framed by dramatic granite cliffs streaked with waterfalls thundering down from snowcapped peaks. He delighted in nudging the ship to the edge of the rock face, close enough that I could feel the icy spray on my face, and reach out to fill a pitcher with the sweetest water I ever tasted.
Dawes Glacier
My introduction to a live glacier was a morning long, equally up-close adventure. The ice floes became increasingly larger as we headed up Endicott Arm to Dawes Glacier, until Captain Jeff brought the ship to a stop within a mere 600 feet (200 meters) of a mile-long (1,600 meter) wall of jagged ice about 20 stories high; so close that I could hear the glacier snap. Seconds later, a slab of ice would crash into the water to immediately pop back up as one more iceberg on the already cluttered sea. Time flew as I concentrated on the sounds, challenging myself to guess the location of the next slide.
Alaska sunset
My most treasured memory of this unique cruise is an anchorage known as Ford's Terror. It is isolated from the outside world by a canyon so narrow, with currents so treacherous that it can be accessed only during slack tide (the moment when currents stand relatively still while the tide turns). The Island Spirit is said to be the only commercial passenger ship around the Inside Passage that is small enough to make its way through. We emerged from the canyon into a stunning oval cove rimmed by steep forests of tall black pines interspersed by tumbling waterfalls. Above the tree line, snowy peaks shone brightly against the cloudless cerulean sky. But the magic of Ford's Terror went far beyond its breathtaking scenery. As we were finishing our dinner, Andy, the first mate, informed us that a grizzly bear was enjoying his at the water's edge. One of the skiffs was lowered for those who wanted a closer look. We reached en masse for our life vests and headed for the skiff. By the time we returned to the ship an hour later, a perfect crescent moon was rising into the still pale blue sky.
Orca whales frolicked by our ship
The weather was again radiant the next morning. While kayaks were an option, I chose to board the skiff again for a ride around the cove. In addition to spotting unusual Harlequin sea ducks and bald eagles nesting high in the trees, I was treated to a rare, close range sighting of a black bear sow and her three tiny cubs. Visit the Simon & Baker Travel Review to read more about my Alaska cruise on board the Island Spirit.