By Elena del Valle and photos by Gary Cox
Suite 2 at Leadwood looked out into the bush
During a visit to South Africa's famous Sabi Sand Reserve earlier this year we stayed at three &Beyond properties, Dulini and Leadwood at the Exeter Reserve and Kirkman's Kamp on the southeastern corner bordering http://simonandbaker.com/kruger. While each had a charm of its own, Leadwood was the most intimate and luxurious, our favorite. One of the reasons it captured our hearts, in addition to fine suites with private plunge pools, contemporary stylish décor, an emphasis on privacy and top notch service and meals, was the informal presence of art.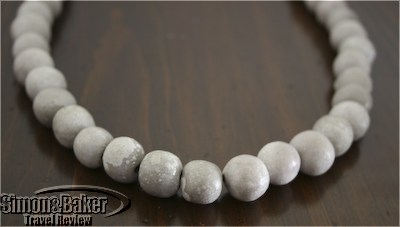 A necklace created by Gift
Three of the staff pursued artistic inspiration in their free time. We found out quite by coincidence and asked to see their work. Shyly, each in turn, displayed examples of his or her efforts. Gift Nyulunga, one of the cooks, made simple bead necklaces out of recycled glass. The large-bead necklaces were available in a limited variety of colors and lengths and were quite affordable starting at about $10.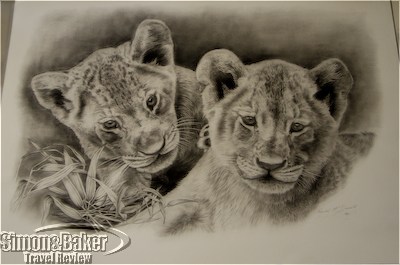 One of Andre McDonald's drawings of lion cubs
Andre Mc Donald, or "Mac" as everyone knew him, our affable guide, drew beautiful lifelike wildlife drawings of the animals in the reserve. The Cape Town native who grew up in the Eastern Cape had been selling his art for five years. We had no idea of his hobby and it was only when I overheard someone comment about his work, and after asking several times, that he brought a handful for us to see one afternoon before tea.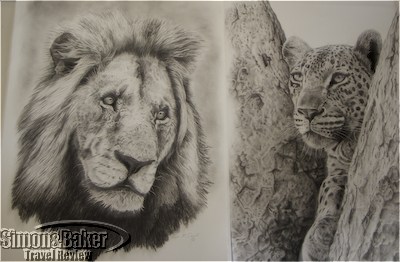 Mac's lion and leopard detailed drawings
"I have had no formal training in art but have always had a keen interest in drawing," said Mc Donald. "After school I did not draw for many years until I started to work as a ranger on a private game reserve where I began to sketch wildlife. After seeing some of my earlier work, one of my guests encouraged me to develop my skill further."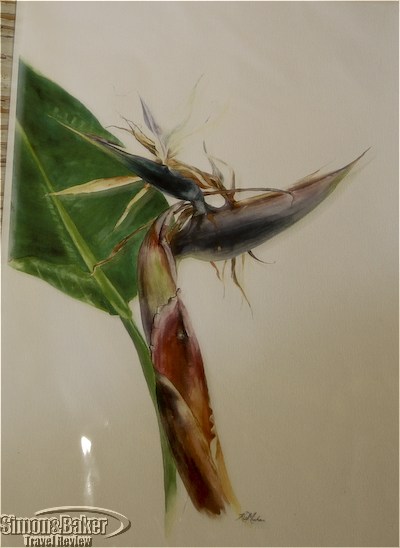 A watercolor by Kerry Michau
His goal is to sketch very realistic representations, in terms of the proportions and postures, of the animals he and his guests often see on the game drives, especially leopards and lions. Each spot on a leopard, for example, is drawn with at least three different pencils to get the depth and texture of the fur just right, he explained.
"I draw from photographs which means that each drawing is true to the original animal. Because I know the animals I draw, I try to capture the character of each individual, in particular the look in their eyes. I look for photographs with an interesting pose or setting."
Lion and cub in watercolor
Mac's pencil drawings had found homes in 22 countries, including United States, Germany, Dominican Republic, Malta, New Zealand and France. The limited edition prints (98 of each) sold for $220 each; originals for $1,000 or $1,500. Overseas delivery required two weeks. He could be reached by email at keriann.mcdonald@gmail.com
Leopard by Kelly Michau
Kerry Michau, the part time assistant manager, was the third artist. She worked with watercolors, painting the wildlife in the reserve as well as modern abstract pieces and fashion.
For more information about Dulini, Leadwood and Kirkman's Kamp and other luxury properties in that area visit the Sabi Sand Reserve section of the Simon & Baker Travel Review.