By Elena del Valle
Photos by Gary Cox
Bedroom at Africa House
From the airport in Johannesburg we flew Federal Air directly to the Thornybush landing strip where Ryan Jack was waiting in an open four by four vehicle to drive us to Africa House, our six room luxury home away from home with a pool for the next four days. We traveled to Africa House, part of the Royal Malewane Reserve which in turn is within the Thornybush Reserve near South Africa's famed http://simonandbaker.com/kruger, to relax and enjoy the area's well known game viewing.
Ryan and Terence
Ryan, our ranger, and Terence Mhlanga would be our companions and guides on twice daily game drives during our visit to this luxury South Africa safari destination. In their company we spent the first and last part of our days, searching for bush experiences, taking thousands of photos and marveling at the flora and fauna of the reserve.
John Jackson
When we arrived at Africa House Ramos, Zama, Gift and John Jackson (see Listen to John Jackson, manager and executive chef, Royal Malewane), the staff, were waiting for us at the entrance. As soon as I saw them I recognized them from our previous stay at the Royal Malewane, an exclusive safari lodge and part of Liz Biden's The Royal Portfolio, two and a half years earlier. On seeing them the memories of our lovely visit flooded back.
Lunch at Africa House
Moments later John and I were catching up as if time had stood still, walking through the beautiful East Africa entrance door to the stand alone house to settle in our temporary bush home. With John and his team in residence we knew our accommodations and meals would be outstanding. Ryan and Terence ensured our game viewing would be memorable. Our days at Africa House passed quickly and remain etched among our fondest bush stays. We quickly fell into a comfortable routine of early morning and late afternoon game drives with amazing gourmet meals and relaxing quiet private time in between.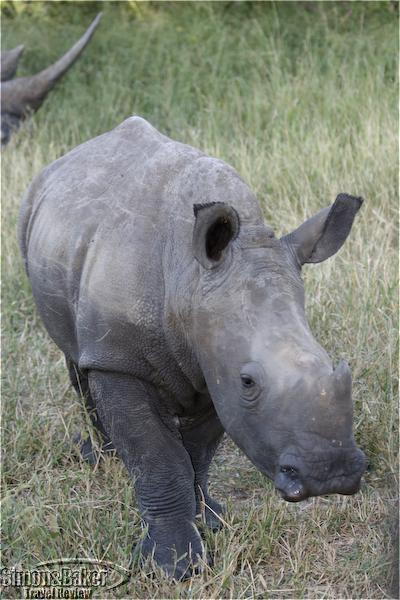 White rhino in Thornybush reserve
Africa House offered a superlative combination of guest centered and attentive service, privacy, at home luxury, gourmet meals and game viewing. It was, in short, one of our favorite safari visit in South Africa. Visit the Simon & Baker Travel Review to read about our Safari Reviews and our stay in Africa House.