By Elena del Valle
Photos by Gary Cox and Elena del Valle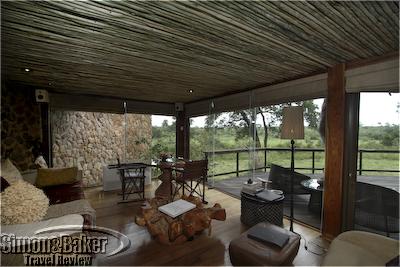 The suite at Boulders featured a stunning view of the bush
We ended our visit to South Africa's premier game viewing area earlier this year with three nights at the Singita properties in the Sabi Sand Reserve. We spent the first two nights at Singita Ebony and the last night, the first night they were open following a soft refurbishing closure, at Singita Boulders. Our experience was superb.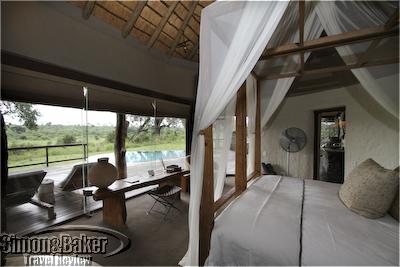 The master bedroom and private pool at Singita Boulders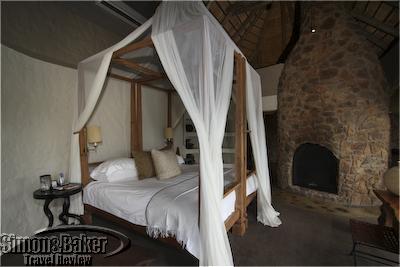 The master bedroom at Boulders featured a wood burning fireplace
At Ebony we enjoyed an informative and fun wine tasting with Francois Rautenbach, the company's wine manager, in the lodge's cozy cellar. During the hour long event, shared with four other guests, we heard about South Africa's varied wine regions and the wines they produce, the evolution of the country's wine industry and some of the salient wines that are garnering international recognition.
Francois Rautenbach, Singita's wine manager
During the tasting, we had a chance to sample four wines, selected by the staff, before our tasting menu dinner. We began with a 2008 Director's Reserve White from Tokara in Simonsberg-Stellenbosch made of 85 percent sauvignon blanc and 15 percent semillon and a 2009 Aeternitas Wines Blanc from Voor-Paardeberg made of 90 chenin blanc, 5 percent viognier and 5 percent grenache blanc.
The Singita shop carried wine and related merchandise
Next we had two 2003 wines, a Sequillo Cellars blend of syrah, mourvedre and grenache from the West Coast and Paarl regions and a Rij's Private Cellar Bravado blend of 21 percent cabernet, 7 percent cabernet franc, 12 percent merlot, 35 percent shiraz and 25 percent pinotage from the Tulbagh Valley.
Singita staff prepared an eco-friendly meal by lantern light
At Boulders we joined fellow guests and the lodge staff, at the same time as guests and staff at Singita's nine lodges in three countries, in an Earth Hour global event organized by the World Wide Fund for Nature on the last Saturday of March every year. The idea is to make it through one hour in the early evening without electricity to raise awareness about climate change.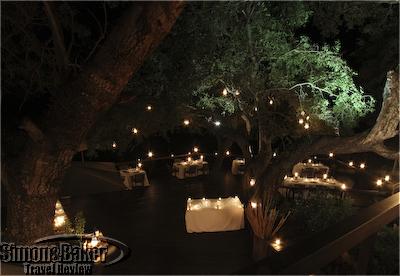 The dining area on the main deck prepared for Earth Hour
The local staff regaled us with a singing and dance performance and the kitchen made sure our dinner, prepared on the deck and served by candlelight was splendid. A company executive and a local news media team were on hand to share the moment with viewers across the country. Visit the Simon & Baker Travel Review for more about Singita Boulders and our visit to the Sabi Sand Reserve and Singita Ebony.