Article and photos by Josette King
The main lodge at Lake Manyara opens onto a deck
Having enjoyed memorable safari experiences at &Beyond lodges and camps during a previous visit to Southern Africa, I was delighted to include three of their properties in my recent itinerary around Tanzania. All three were located in the Northern Circuit of the country, in the legendary destinations of the Serengeti, Ngorongoro Crater and Lake Manyara. And all three delivered superb guiding, outstanding comfort and attentive service. But then, that is considered de rigueur from any reputable luxury safari organization. So, I asked myself, what is the magic ingredient that makes the &Beyond properties I have stayed at stand out in my mind? There are two actually: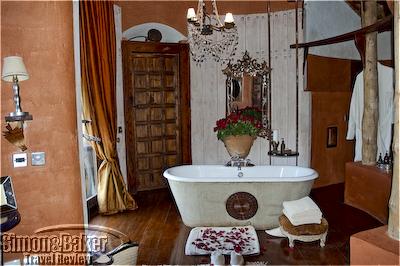 A welcome rose petal bath at Ngorongoro Crater
First, there is Chris Browne, &Beyond's creative director, the versatile wizard who conjures up for each property an unpredictable and sometimes improbable environment fully integrated within its distinctive surroundings. Each location was a new aesthetic surprise for me with its unique personality but always merely a setting for uncompromising comfort.
The lounge at Serengeti Grumeti Tented Camp
My first stop of the Northern Circuit was Serengeti Grumeti Tented Camp, in the far northern reaches of the Serengeti National Park. Although just a short drive from the pale grasslands and stark vistas of the "endless plain," the camp was nestled along the verdant bank of the Grumeti River. To further play on this contrast the décor was an explosion of colors and entertaining details. The lime green sofas of the lounge had vibrant blue and orange pillows that contrasted further with the bright purple market umbrellas and seat cushions of the deck furniture. Whimsical interpretations put a new spin on traditional arts, with light fixtures of fine Masai beadwork and witty polychrome woodcarvings of men in costumes of the colonial era standing guard in a corner of the lounge. It was impossible not to be in a playful mood at this camp.
The lodge is perched at the very rim of the Ngorongoro Crater
My next destination was the Ngorongoro Crater Lodge. There, in a fairytale mud and brick village balanced on the very rim of the largest intact caldera on the planet, a Victorian extravaganza awaited, its tongue-in-cheek glamour a perfect foil for the breathtaking scenery below. In generous spaces where rich Zanzibar paneling alternated with whitewashed plaster, miles of raw silk draped soaring French windows, antique mirrors reflected crystal chandeliers, and overstuffed cut velvet sofas were piled with jewel-toned pillows. On 19th century guéridons, urns filled with long-stem roses alternated with fine bronzes of big game and flowing art-nouveau statuettes. Even my bathroom had its own chandelier and Persian carpet!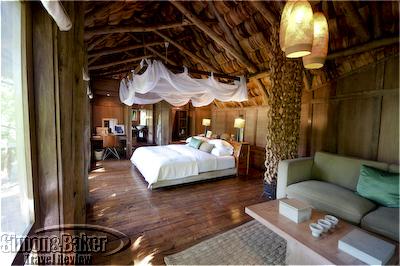 My room at Lake Manyara
The last stop of my journey was Lake Manyara Tree Lodge, a serene retreat tucked in a dense forest of ancient mahoganies, in the foothills of the Rift Valley escarpment, a mere 10 minute drive from the lake shore. Here minimalist luxury prevailed, with clean-lined contemporary furniture and neutral tones. Public areas opened onto a large circular boma (fenced enclosure) with its own brick oven barbecue and central campfire for romantic fireside dinners under the stars. My suite was a genuine tree house, set on a platform perched on stilts high in the boughs of the forest. Screened-in outer partitions opened onto a large veranda that seemed to melt into the forest beyond. I enjoyed eye-level contact with the rich bird-life and the occasional overhead visit of the rarely seen blue monkeys. I couldn't have wished for a more inspiring environment to bid goodbye to Africa, and relax before the long journey home.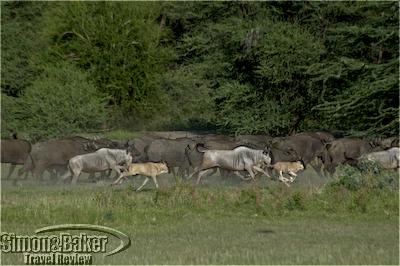 A herd of wildebeests rushes past at Lake Manyara
The second ingredient in the &Beyond magic comes from its multi-level involvement in the local community. Managers told me of priority local hiring of their staff, cross-functional training and internal promotion practices. Young butlers eager to show off their language skills spoke to me of the company-sponsored English lessons; some confided their aspirations to become rangers, and pointed to guides that had started as household staff. At Serengeti Grumeti camp, I had the pleasure to congratulate May Kobero, who after several years in increasing levels of administrative positions, had been officially promoted to the camp's top job that very morning. I was heartened to find several women in managerial and professional positions (including two women guides at the Crater Lodge). This in turn fosters an enthusiasm and pride in being "&Beyonders" as the staff likes to call themselves that is directly reflected in the quality of service I enjoyed during my stay.
Masai shepherds guide their cattle down the outer edge of the Ngorongoro Crater
Then there is the grass-root level involvement in the community at large: fresh produce purchased from local growers who practice chemical-free farming (from seeds donated by &Beyond), honey from local hives, and the work of local craftspeople integral in the décor of the camps and sold at the camp boutiques. And most importantly, through the &Beyond Foundation, there is the extensive effort to promote literacy in local children. Each property sponsored a school (two of which I had the pleasure to visit) that serves surrounding villages and educates around 600 children. Efforts can range from providing the most basic necessities such as windows, desks and sanitary facilities as well as school supplies, to starting a kindergarten where Masai children can learn Swahili before they enter primary school.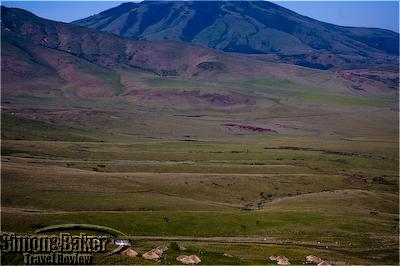 Masai village near the Ngorongoro Crater
There is a special focus on promoting school attendance for girls. Additionally there is an extensive effort on the part of the guides who volunteer their time to educate children on conservation and game protection issues. During the low season they also arrange game drives for the best performing pupils (competition is intense!). And &Beyond encourages Masai adolescents to preserve their cultural heritage. Twice per week during the year a large group of high-school children are bussed from surrounding villages to the Ngorongoro Crater Lodge where they perform their traditional dances and songs for the guests. This is a much sought-after opportunity, as in addition to earning a stipend for their performance, there is an ancillary perk. I noticed a discrete undertone of boys and girls from different villages "checking each other out" throughout the evening.
Masai students demonstrate their jumping skills for Crater Lodge guests
It is this multi-faceted combination of aesthetic enjoyment drawn from the luxurious and witty environments created by Chris Browne coupled with the pride and enthusiasm of the staff, as reflected in the superb quality of service, that has made my stay at these properties consistently memorable. As for the for community involvement of &Beyond, it addresses my ever present concern about the impact of luxury tourism on local populations. It enables me to better enjoy the superb accommodations and hospitality of the properties, knowing that my visit contributes, however modestly, to providing growth opportunities to the local population while helping preserve their culture and natural environment.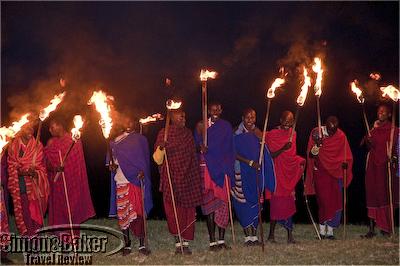 Masai students share their traditional dances with Crater Lodge guests
Visit the Simon & Baker Travel Review to read more about my visit to Tanzania, Serengeti Grumeti Tented Camp, Ngorongoro Crater Lodge and Lake Manyara Tree Lodge.