Article and photos by Joachim Castellano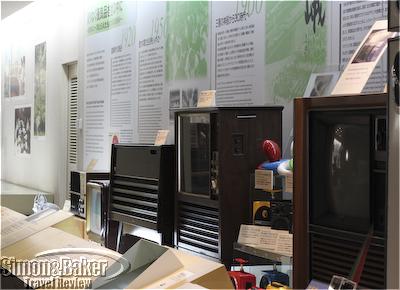 Early Panasonic radios and tape players
The Konosuke Matsushita Museum, established 1968, is a small one-story exhibition space located on the campus of the global giant electronics company, Panasonic. The museum, located about 20 kilometers from Osaka, tells the story of the stratospheric rise of Panasonic's founder Konsuke Matsushita to one of the world's most successful industrialists. Inside a cozy building modeled after the original 1933 Panasonic head office many first generation consumer electronics are on display, from TVs to washing machines.
It was fascinating to see the initial models, whose design genius us modern folk have come to ignore like windows and doorknobs. Panasonic's first radio, made of beautiful wood with a distinctive octagonal speaker, was likely met with the same jaw-dropping awe awarded to today's smartphones and tablet computers. To the digital generation, these gadgets might appear as ancient as Egyptian artifacts. However, digital DJ's should pay respects and bow at the altar of the Technics Turntable record player, a key tool that set stage for art forms such as hip hop and dance music.
Early models of televisions and washing machines on display
The museum is not just a historical hit parade for Panasonic merchandise. I glimpsed into a time capsule of Japanese history after the devastation of World War II. On display are copies of Time and Life Magazine from the 1960s whose cover stories feature Japan. It was interesting to witness the American media coverage of Japan's transformation as it was happening. The issue of Time on display features an interview with Matsushita, whose success story parallels Japan's rise as an economic superpower.
Aspiring CEOs might also find golden nuggets of advice from Matsushita's teachings on business. His process, I had the impression, created global hit products for decades. The basic business principles he developed are still practiced by Panasonic today. The future Bill Gates or Steve Jobs should not miss visiting this gem of a museum.
Early magazine articles from Time and Life were on display
Signage and information was available in Japanese and English. A few video and audio clips were in Japanese only. The museum, owned and managed by Panasonic Corporation, was a three minute walk from Nishi-sanso station on the Keihan Line.
The Konosuke Matsushita Museum might be small in size, but it is rich in Japanese and electronics history. It houses models of the world's first VHS VCR along with information about post-war Japanese history and corporate management. Konosuke Matsushita Museum, 1006, Kadoma, Kadoma City, Osaka 571-8501, Japan, + 81 06-69 060 0106, fax: + 81 06 69 06 1894, http://panasonic.net/history/museum