Article and photos by Laura Scheiber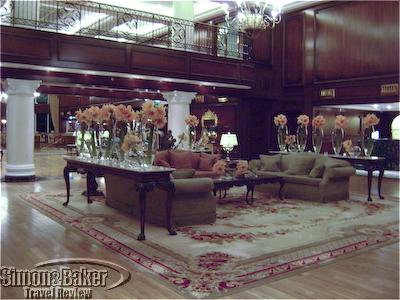 Lobby of The Ritz-Carlton, Powerscourt
During a springtime trip to Ireland, my travel partners and I stayed at The Ritz-Carlton, Powerscourt. Located on the grounds of the 1,000-acre Powerscourt Estate in County Wicklow, the resort was situated in a lush green countryside setting roughly 40 minutes outside of Dublin.
The lobby had a majestic feel with high ceilings and was tastefully decorated in deep wooden browns and gold, with vibrant fresh flowers. Following the check-in, the front desk receptionist escorted me to my Mountain View Suite (number 352). On the way she chatted with me in a friendly manner, suggesting a number of activities that I might enjoy.
The  bedroom in suite 352
Upon opening the door I was pleased by the elegant décor of the 700 square-foot suite. The entry hallway, which had a powder room on the right hand side, led to a Georgian style sitting room with an ornamental fireplace. Around the corner was a spacious area with a dining table and a large wooden desk. Farthest from the entrance was the bedroom opening out onto a terrace that provided a view of Sugar Loaf Mountain. Next to the bedroom and walk-in closet was a generous-sized bathroom with a separate bathtub, shower and toilet room.
Fresh scones upon arrival
Five minutes after I arrived, one of the staff members delivered freshly baked scones (still warm) with butter and jam. The suite had numerous modern details, including a touch screen system that controlled the lights, curtains and air conditioning, and televisions in the sitting area, bedroom and bathroom. Toiletries included: Gilchrist & Soames Bath Caviar (bath beads), facial spray and lip balm; Ritz-Carlton mouth wash and dental kit; and 1.3 ounce-sized Acqua Di Parma shampoo, conditioner, shower gel, soap, and lotion. Two plush terry robes hung on the bathroom wall next to the shower.
The color scheme of the suite was white, gold and light blue, while the bathroom had predominantly white-marble walls. The suite was immaculately clean. Throughout the evening I enjoyed a number of additional amenities including complimentary 24-hour hi speed wi-fi access, a complimentary box of eight gourmet chocolate truffles, and turn down service that included a bottle of mountain spring still water and relaxing pillow spray.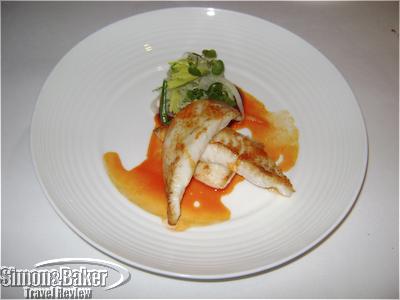 The John Dory fish in blood orange puree at Gordon Ramsay at Powerscourt
In the evening, I dined at the Gordon Ramsay at Powerscourt restaurant on the third floor of the hotel. Ceiling-to-floor glass windows offered stunning views of Sugar Loaf Mountain and added a spacious feel to the dining area. I enjoyed a six-course meal that began with a green pea puree, compliments of the chef, followed by a goat cheese and red beet salad. My main course was preceded by a delicious spring garlic puree. While I enjoyed a yummy spinach and mushroom gnocchi, my travel mates had rave reviews about their John Dory fish in a blood orange puree, fennel salad and chorizo emulsion, and the Donald Russell beef fillet with wild mushrooms, triple cooked chips, and pepper sauce. The meal was complete with a mouthwatering lemon curd on Brittany shortbread and crystallized raspberries.
We enjoyed complimentary gourmet mini chocolates and pastries at the chef's table in the kitchen where we met Ludovic Lantier, the executive pastry chef. He explained what was in each of the mini-pastries and answered our questions in a friendly manner.
Ludovic Lantier, executive pastry chef
Throughout the meal, my wine glass was never empty thanks to the attentive wait staff. Both the Cerro Del Masso, a Chianti red wine, and the Las Colinas del Ebro, a Garnacha white wine from Spain, went well with the meal, but I preferred the white wine. The wait staff and manager were friendly and seemed genuinely committed to ensuring that we had an enjoyable dining experience.
Overall, my stay at The Ritz-Carlton, Powerscourt, (Powerscourt Estate, Enniskerry, Ireland, + 353 1 274 8888, http://www.ritzcarlton.com/en/Properties/Powerscourt/Default.htm, powerscourtreservations@ritzcarlton.com) was a pleasure. My spacious and luxurious suite with mountain views combined with the hotel's elegant ambiance, friendly service, and gourmet dining lived up to my expectations of an evening at The Ritz-Carlton.