Article and photos by Laura Scheiber
Driving along in the countryside in County Wexford
This was my third visit to Ireland, but the first time touring the South East of the Green Isle. After landing in Dublin on a sunny spring day, my travel partners and I spent the next six days exploring the many delights of County Wicklow, County Wexford, County Waterford, and County Kilkenny. Driving gave us the opportunity to take in the idyllic green countryside, impressive coastline, and fascinating medieval architecture.
Ken Healy, proprietor, Barberstown Castle
Throughout the week we stayed in five different luxury accommodations: the Shelbourne Hotel Dublin, a landmark building in central Dublin (27 Saint Stephen's Green, Dublin 2 Ireland, + 353 1 663 4500, www.theshelbourne.ie), The Ritz-Carlton Powerscourt, a well known countryside spa and resort (Powerscourt Estate, Enniskerry, Ireland, + 353 1 274 8888, http://www.ritzcarlton.com/en/Properties/Powerscourt/Default.htm, powerscourtreservations@ritzcarlton.com), Dunbrody Country House Hotel, a country Georgian manor situated in 300 acres of lush gardens (Arthurstown, County Wexford Ireland, +353 51 389 600, http://www.dunbrodyhouse.com/, info@dunbrodyhouse.com), the Cliff House Hotel, a seaside hotel (Ardmore, County Waterford, Ireland, + 353 24 87 800, http://www.thecliffhousehotel.com/, info@thecliffhousehotel.com), and Barberstown Castle which dated back to 1288 (Straffan, County Kildare, Ireland, +353 1 6288157, http://www.barberstowncastle.ie/).
The Serenity Room at Espa at The Ritz-Carlton Powerscourt
I thoroughly enjoyed all of the accommodations and hope to return. One of the most memorable facilities was the spa at The Ritz-Carlton Powerscourt. Boasting 33,000 square feet in size, I especially enjoyed the pool that had 160 Swarovski crystals embedded in the bottom. The crystals reflected onto the ceiling to give the effect of a starlit evening. Situated in a low-lit room, I felt as if I was swimming in my own private pond on a summer's evening. Simply divine.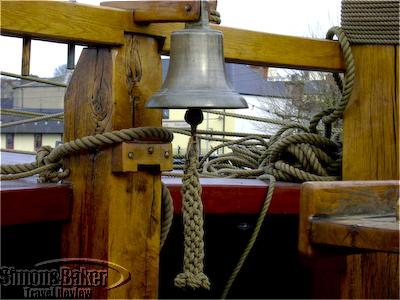 Original bell from the Dunbrody Ship
On our third day, we visited the Dunbrody Famine Ship in New Ross, County Wexford (+353 51 425239, http://www.dunbrody.com/). The ship was a replica of the actual one that transported thousands of immigrants to North America in the 1800s during the Great Famine of Ireland. Our guide offered a fascinating travel back in time, and the interactive nature of the ship museum brought to life the daunting journey families embarked upon in their quest for a better life. Being one of the more than 35 million Americans who can trace their ancestry to Irish roots, I found the Dunbrody Famine Ship so captivating that it instigated a desire to learn more about my family's Irish origins.
The Blowing Department at the Waterford Crystal Factory
The following day, we visited the new House of Waterford Crystal Factory (The Mall, Waterford City, Ireland, + 353 51 317000, http://www.waterfordvisitorcentre.com/). The 45 minute tour took us through the main working areas of the factory. I liked that the tour put us just feet away from the workers and we had the opportunity to interact with them. On that particular day, some of the sculptors were working on the People's Choice Awards. While I am not a huge fan of crystal, I found the tour interesting and couldn't resist purchasing a Waterford item available only in the showroom.
Outside of Kyteler's Inn
My favorite cultural activity was a lesson on the traditional Irish bodhran drum at Kyteler's Inn in Kilkenny (Kieran Street, Kilkenny, +353 56 772 1064, http://www.kytelersinn.ie/contact.asp). Our boisterous instructor, Helen McLoughlin (helenbodhran@hotmail.com), first demonstrated how to play the instrument and then sat us in a line of chairs with bodhrans in hand. She had us in stitches from her quick Irish wit, which helped ease our insecurities as we learned to play some basic rhythms. The interactive nature of the lesson which included singing traditional Irish folk songs lifted my spirits.
Downstairs bar at L'Escrivain
I was pleasantly surprised to enjoy five nights of outstanding gastronomy. In all of the restaurants, the executive chefs used fresh local produce and locally sourced seafood. My travel partners and I compared our favorite dishes. A professional foodie said that her main dish (Breckland duck with butternut squash and pine nut dressing) at L'Escrivain Restaurant (109a Lower Baggot Street, Dublin 2, + 353 1 6611919, http://www.lecrivain.com/, enquiries@lecrivain.com) was the best duck she had ever eaten.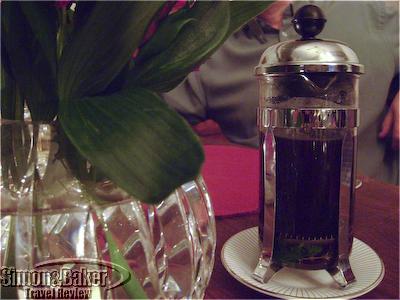 Beef tea at the Cliff House Hotel Restaurant
My favorite restaurant in terms of artistic food presentation and exquisite hospitality was The House restaurant at the Cliff House Hotel. We enjoyed a number of innovations by Executive Chef Martin Kajuiter such as "beef tea," a beef broth for the Black Angus beef, which was delivered in a tea press teapot. I enjoyed the Helvick cod with spinach and Dingle Bay Crab carefully wrapped in a special package to seal in the flavors.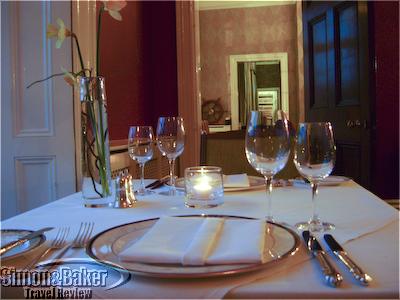 Dining table at The Harvest Room Restaurant
At Barberstown Castle, my six-course meal included scrumptious panned fried scallops and halibut in a citrus butter sauce. We dined in the oldest section of the medieval castle, and it felt as if I had been magically transferred back to the 1300s. The Harvest Room Restaurant at Dunbrody Country House Hotel offered a charming romantic country setting, and I will never forget that heavenly chocolate lava cake and divine Chateau Bel Air Perpencher, a Bordeaux red wine. The service in the restaurants was friendly and attentive without being overbearing.
All in all, my travels in South East Ireland were unforgettable. I would recommend the region to any of my family and friends who are captivated by Celtic history and culture, interested in finding out more about their Irish ancestry, or for those who enjoy the delights of gourmet Irish cuisine.