By Elena del Valle
Photos by Gary Cox
The Breakers Palm Beach
This family owned and family friendly resort in tony Palm Beach Island in Florida's east coast made fans out of us. There are many reasons to like the 140-acre property such as its handsome Italian design interiors and pretty rooms, beachfront location, two 18-hole championship golf courses, ocean facing swimming pools, spacious spa, boutiques and multiple restaurants. Our favorites: the manicured look pervasive throughout the resort including uniformed staff and the high level of service, often friendly and helpful, wherever we went.
There were many comfortable areas to relax and enjoy the property
We enjoyed a midweek stay just as the season was closing and although the weather did not cooperate as much as we would have liked (there was a constant lifeguard red flag during our stay) we appreciated the calm environs. We particularly enjoyed massages at the resort spa, a sunset dinner at the The Flagler Steakhouse and a molecular gastronomy tasting menu dinner at L'Escalier, the resort's gourmet restaurant.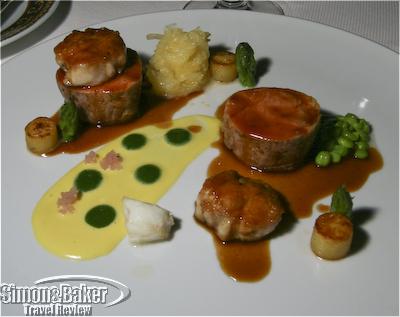 Cuisine as art at L'Escalier
Another favorite was a day at Beach Bungalow 17, one of several day rental cabanas fronting the adult relaxation infinity pool and facing the beach beyond. The bungalow provided quiet space aside from the crowded pool area and the private area with a concierge made our time under the sun especially relaxing. The 150-square foot indoor area plus a segregated patio was stocked with some complimentary amenities and plenty of pool towels. For sun time the patio had three outdoor lounge chairs and an umbrella.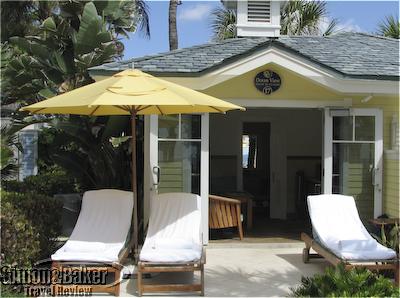 Beach Bungalow 17
Inside the open air space had a ceiling fan and a tower fan, lanai, armchair, rectangular wood table, private outdoor shower, water closet and sink, binoculars, house brand toiletries (body lotion, bathing gel, shampoo, conditioner, liquid soap), blow dryer, tissue paper, WiFi connection, LG flatscreen television with satellite connection, Zenith DVD player, fruit bowl, ice bucket and mini refrigerator stocked with house brand purified complimentary water. There were also four types sodas and snacks in our bungalow for purchase (Snickers, Skittles, Reese's, M & M and PowerBar).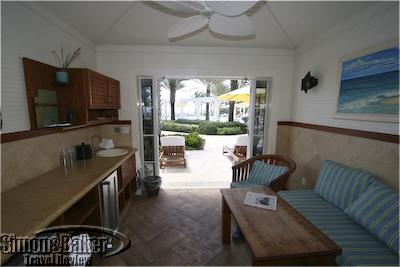 Our view of the pool and ocean beyond from inside the bungalow
Krissy, our Bungalo concierge, made sure we had everything we needed with a smile
Although the resort facilities and amenities were within easy reach it was nice to know we did not have to do anything or go anywhere if we did not care to. Even lunch was easy.
We selected Florida Fish Tacos, Turkey Club Wrap and a side order of Avocado Fries from the Ocean Grill menu in our bungalow and placed our order with Krissy, a uniformed concierge who checked on us regularly. Within minutes our food arrived. In case we were still peckish around 3:30 p.m. she brought a styrofoam plate of frozen grapes. We wrapped up our day feeling lazy and relaxed and ready for dinner at Echo, the resort's offsite Asian eatery a short shuttle ride away in downtown Palm Beach. Click here to read about our experience at The Breakers Palm Beach, The Spa at The Breakers and L'Escalier.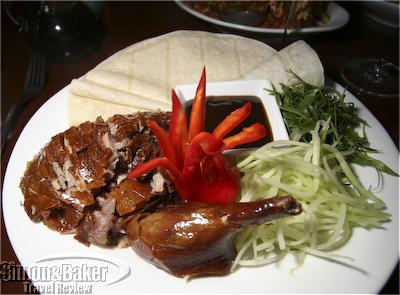 The duck at Echo was served with flour wraps and crisp vegetables