By Elena del Valle, photos by Gary Cox
Lacco Ameno in Ischia
This spring while we visited Ischia, an island off the west coast of Italy in the Tyrrhenian Sea we stayed at L'Albergo della Regina Isabella hotel. Our last night on the island we had an unexpected and delicious gourmet dinner at the hotel. Although Ristorante Indaco, the hotel's gourmet restaurant, was closed for renovations we were able to sample an Indaco Tasting Menu in the hotel's main restaurant. Chef Pasquale Padamaro, a native of Ischia, and his staff prepared an exceptional meal which we enjoyed along with a splendid night view of the Lacco Ameno town and nearby coast.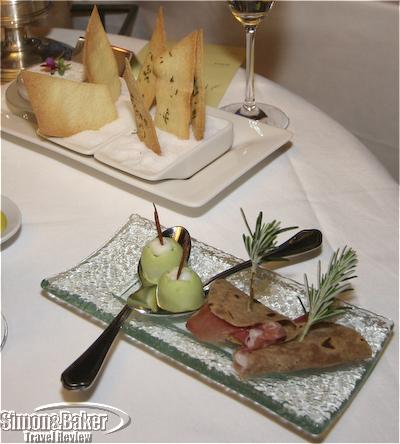 Handmade breadsticks and appetizers
To start there was a welcome bite of Piadina con prosciutto crudo San Daniele; also cheese, breadsticks with sesame and bread, Ricotta di bufala e acciughe di cetara, Grissini al sesamo, and Streghe. Octopus and fish tartar: Polpo alla piastra e fagioli; Antipasto tartar di palamito al basilico e cipollina le uova e il fegato alla genovese, colatura di insalata di pomodori piccatilli were next. For first courses we had: pasta with shrimp and basil sauce (a favorite), Linguine di giacomo santoleri al farro e orzo con pesto di basilico e scampi; and tiny raviolis, Cappeletti di mantecato di pezzogna con patate e provola.
Monkfish with shrimp
The second course was a monkfish with perfectly cooked shrimp, Medaglione di pescatrice agli aromi e lardo di colonnata con passata di rucola e senape e gamberoni appena scottati. Pre-dessert was Centrifugato di avvogato e jogurt magro with chocolate followed by a strawberry medley dessert of strawberry cone, strawberry ice cream, and baignet of wild strawberries, Il Viaggio del pasticcere. A tray of bite sized baked sweets accompanied our hot beverages at the end of the meal.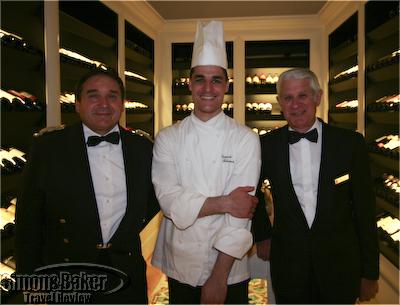 Our server, the chef and the maître d'hôtel
Carmine, our server, spoke English and translated the menu each time a course arrived. The pretty dinnerware that varied with each course, artistic presentation of the food including tiny flowers on the plates and an island wine to match the meal, Pigna Nera Tommasone 2006 (although it was too stout for the delicate flavors of our dinner it would have been a worthy accompaniment to a bold winter menu) rounded out the experience. The next time we visit Ischia we look forward to another dinner at the newly renovated Indaco restaurant. Click here to read about our stay at L'Albergo della Regina Isabella.