Article and video by Elena del Valle, photos and video editing by Gary Cox
Leopards at Londolozi
Our Tree Camp experience at Londolozi was outstanding. The boutique lodge, set in a prime area of the famous Sabi Sand Reserve next to South Africa's http://simonandbaker.com/kruger, offered luxury accommodations in a lush bush setting. We thoroughly enjoyed the gourmet fare including a surprise tasting menu with wine pairings, boma dinner with staff dancing and singing, the handsome and spacious suite with private plunge pool, and creature comforts.
"You're coming to Londolozi because you'll have one of the best animal viewing experiences in South Africa and you're going to be with a ranger who has a huge amount of knowledge which he will unfold for you," said Duncan MacLarty, camp manager, Londolozi Tree Camp. "On the Tree Camp side you will have an experience which is very personalized."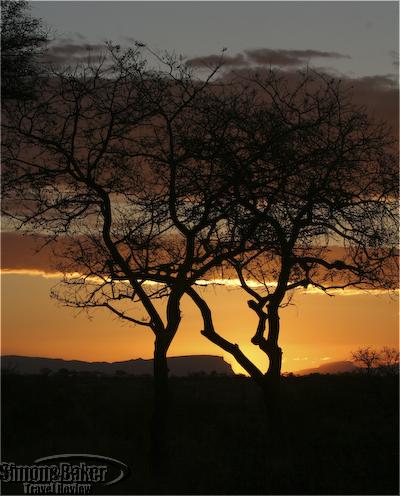 Sunset at Londolozi
We found that Duncan's game viewing promise was fulfilled. Over the years, prior to our stay at Londolozi we stayed at dozens of bush properties in multiple African countries and had many, many outstanding game viewing experiences. In spite of that, our four-night stay at Londolozi Tree Camp stands out for the extraordinary game viewing we enjoyed.
It wasn't just that we saw animals, including the Big Five and wild dogs.  It was the quality of the game drives and sightings that stood out. Also, our guides were knowledgeable and enthusiastic about the bush, making our game viewing special.
Leopards are solitary animals, infrequently seen in groups or pairs. On our last morning we encountered mating leopards relaxed enough to allow our company. We spent six hours following, viewing and photographing the amorous couple. Click here to read a dedicated feature about Londolozi Tree Camp.
Click on the play button below to view video of some game we encountered at Tree Camp in the Londolozi Reserve.