Article and photos by Josette King
Low Country Mansion
On a recent visit to the Low Country, the coastal plain where South Carolina melts into the Atlantic Ocean, I enjoyed a few days in Charleston, the historic, cultural and culinary crown jewel of the area. There, I had the pleasure of dining at Circa 1886 where I was able to observe first hand the artistry of Marc Collins, the restaurant's executive chef.
Tucked away in the back garden of the Wentworth Mansion, in a low pink brick building that was once its carriage house (and named for the year the mansion was built), the restaurant could be easy to miss among the grand southern mansions of its historic residential neighborhood. But although only a discrete sign at the entrance of its vine-covered trellised walk announced its presence, the word had obviously gotten around. Even on a Tuesday night in the middle of summer, the quietly formal dining room was filled with local patrons as well as Mansion guests.
Circa 1886 dining room
The beautifully restored 19th century carriage house was an harmonious blend of original elements (such as the stable doors and heart-of-pine floors) and seamlessly integrated reconstruction features like elegant vaulted booths, boxed ceilings and flattering lighting. The timeless elegance of the décor was an appropriate metaphor for the style of Chef Collins who wove together elements of traditional southern cuisine and modern French gastronomy into an imaginative menu of understated sophistication.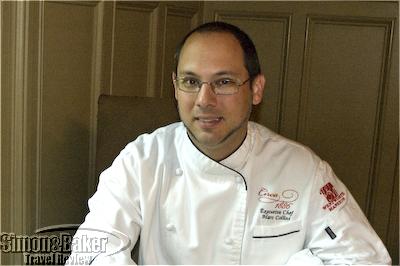 Marc Collins, executive chef, Circa 1886
Chef Collins took over as executive chef of newly opened Circa 1886 in 2001 and quickly made his mark on the Charleston cuisine scene. After being singled out as chef to watch by Esquire Magazine in 2001, he went on to lead Circa 1886 to its current status as a AAA Four Diamonds and Mobile Four Stars recipient. His creations emphasized an intriguing modern approach to traditional southern cuisine, based on seasonally available local products, as well as sustainable and rebounded local fish and seafood. He found inspiration in antique cookbooks of the Low Country, where classic French and English cuisine were enhanced with vibrant Caribbean and African accents, as departure points for some of his signature dishes, such as crab cake souffle (made with mango puree) and his spicy grilled shrimp over fried green tomatoes with chow-chow.
On the night of my visit, I especially enjoyed the seared fresh foie gras first course. It was served on a glaze of Myer's rum and garnished with bittersweet chocolate bread topped with banana gelato for an intriguing balance of tangy sweetness. My Key Lime Scallops main course was another unexpected combination: three giant seared scallops, each served on a small basil-corn flapjack, and topped with pureed buttered carrots, heart of palms and spring peas respectively; a light but satisfying dish that let the delicate freshness of the scallops shine.
The staff was polished, well informed of the particularities the menu and offerings on the wine list.  The service, discretely attentive, well timed and friendly, was flawless. Click here for more about my superb dining experience at Circa 1886.