Article and photos by Elena del Valle
The Lotus I drove at Club Spring Mountain Motorsports Country Club
Do you dream of driving a Lotus? I did – for a day at the Lotus Performance Driving School. That morning started with a 4 a..m wake up call at my 'Vegas Strip hotel. An hour later, I was driving down a dark and lonely road on my way to the Mojave Desert plain with the top down and the radio blaring. After about 90 minutes I found my way to Club Spring Mountain Motorsports Country Club, 193-acres "dedicated to the art, science and pure love of sports and exotic car owners and racing," as described in the property's promotional materials.
The club was the brainchild of two California-based entrepreneurs and driving enthusiasts, John Morris and Brad Rambo. Spring Mountain features: a 3.5-mile private road course, three professional driving schools with Corvettes, Lotus and Radical race cars, 56 private single or double-bay garages for members to store their cars, a new $3 million, 8,000 square foot resort-style clubhouse for club members, flying in Remo Light Sport Airplanes right off the track, karting, and an indoor gun range. Memberships to the club start at $7,500 plus monthly dues.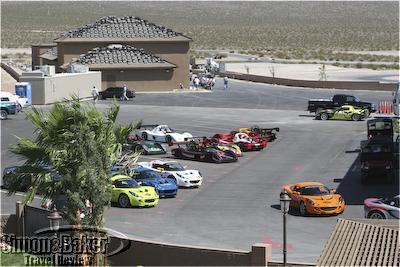 The view from the club tower
My plan was to spend the lion's share of the day taking part in a professional Lotus driving course, and then return to Las Vegas for dinner and a show with my husband. I accomplished all my goals with room to spare although I was ready for some rest at the end of the evening. In spite of my lack of knowledge or experience with racing and race cars the staff welcomed me to the course.
After a brief classroom introduction we, a motley group of men, one other woman and I, were invited to select a car each to drive for the day. The club's 15 Lotus cars are available for students and for rent. Minutes later we began our first breaking maneuvers. In the morning, we learned about wheel lockup, threshold breaking and conventional versus ABS (Anti-lock Breaking System) breaking systems. I was thrilled to be behind the wheel of my very own Lotus. It was mine to have and to hold, for better and for worse (I had promised to pay any expenses if I crashed or damaged the car), for the day.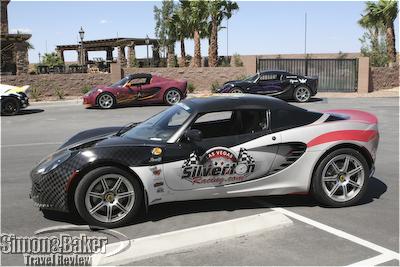 The 2006 Lotus Elise I drove was a handsome vehicle with sexy lines, low to the ground with manual transmission (of course), seat belt, a two-way radio to communicate with my instructors, and air conditioning (only some cars had A/C). Although Proton, a Malaysian company, owns Lotus, the cars are still manufactured in Hethel, England.
Toward the middle of the day I discovered that the seat was designed for drivers 5'5" and taller. Because my height falls below that threshold, reaching the foot pedals (accelerator, break and clutch) required a little more effort than it should have, and made it especially difficult to practice some of the race track maneuvers like heel toe and foot positioning.
But I'm getting ahead of myself. Our first maneuvers were nerve wracking, and fun! Even some of the veteran race drivers confessed to being nervous. I thought it would become easier as we practiced more but there were usually only two practice rounds for each skill. After that we had to build on the new skill toward a more complex one. For those of us that didn't master the skill the first two times learning a new skill on top of the old one we still didn't master was frustrating.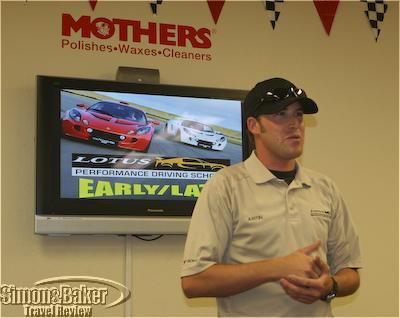 Time in the classroom
Our instructors', we had two instructors, philosophy was that the best way to learn to drive a race car was to do the exercise, then do it some more. Although there was a little classroom discussion most of our time was spent in the Lotus practicing maneuvers. By the end of the day, we were invited on to the race track where we practiced accelerating and braking at corners, heel toe, foot positioning, and had a couple of rounds with an instructor in the car before being allowed to "race" on the track.
The 1.5 mile race track at Club Spring Mountain Motorsports Country Club
With no racing experience I was definitely in the minority. Most of my fellow classmates had race cars of their own; at least one of them had a Lotus at home, or racing experience. Speed was they wanted. By the time we hit the race track most everyone was eager to spread their wings and see what the Lotus could do. It was sweet! I was the slowest driver so the instructors left me behind and dedicated their time to the rest of the drivers. A couple of times one of them shared audio feedback through the two-way radio and gave me instructions to get out of the way of the rest of the drivers that were coming through.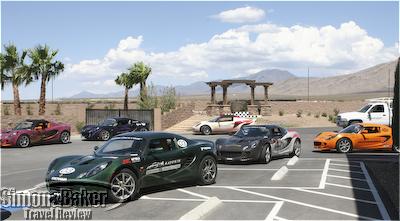 Some of Lotus cars in the Club Spring Mountain Motorsports Country Club
As I drove back to Las Vegas in the mid afternoon keeping the air conditioning cold to make sure I was awake (now that the adrenaline was slowing I was afraid I would get sleepy in the desert heat), I thought about my day's adventure. I liked having an assigned car for the duration of the course. The club facilities were spacious, clean, inviting and luxurious. It was a pleasant place to spend the day and take a course. And, I loved the Lotus! It felt light and easy to handle. It drove well, hugging the road tightly and responding instantly.
At the end of the day and in spite of the many nervous moments during maneuvers, I walked away a better and more cautious driver for my efforts. If I ever have a chance to return or a friend asks for my recommendation, I would stay at a nearby hotel (rather than driving from Las Vegas), request a dedicated instructor so I can take my time and practice the skills until I'm comfortable, and take a two or three day course (one day was not enough). A course like that would be worth a dedicated trip to the Club Spring Mountain Motorsports Country Club and the subject of additional fond Lotus race car memories.