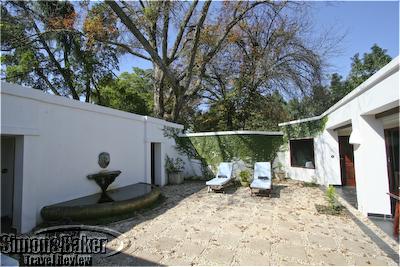 The courtyard at the Forest Health Spa at Cybele
The Forest Health Spa at Cybele is a short drive from the Kruger Mpumalanga International Airport on the road to the Sabi Sand Reserve and near the famous http://simonandbaker.com/kruger in South Africa. The spa is located within the Cybele Forest Lodge & Health Spa, a secluded "forest" Relais and Chateax property, a few miles off the main paved road.
The spa's small reception area
Past the security guarded gate a small lovingly built spa within a luxury lodge property awaits visitors who plan ahead. Impromptu visits may be disappointing as the small spa seems to often be fully booked. When our team was most recently in the area they stopped at the lodge for two nights and dedicated half a day to couples treatments and spa indulgence.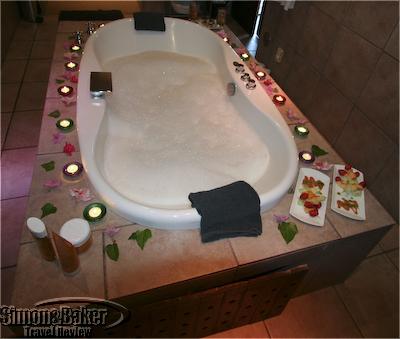 The treatment room where we had our Clarins Relax Bath
Inside, the square shaped spa was quiet, offering guests seclusion and a menu of tempting treatment options including the nature oriented Clarins French product line. This was one of few spas in South Africa with Clarins products and Clarins trained therapists. Click here to read a dedicated article about the Forest Health Spa at Cybele.