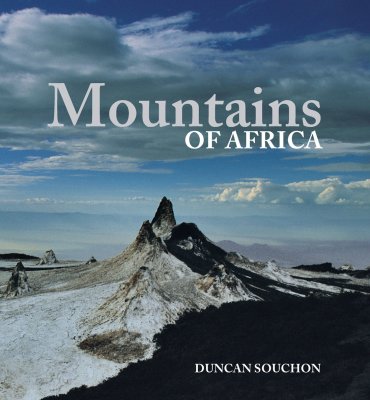 *
Mountain climbing enthusiast Duncan Souchon shares some of his passion for high places in Africa in the recently published Mountains of Africa (International Publishers Marketing,$29.95), a 191-page hardcover book. A combination of color photos, historical tidbits and quotes, the book transports armchair travelers, most of us unwilling or even unable to visit and climb the summit of these natural treasures, to the mythical heights of the Dark Continent.
Photos from 19 sources grace the pages of the book displaying the peaks and distinctive areas of 15 mountains: Table Mountain, The Ruwenzoris , Mont Cameroon, Kilimanjaro, Mount Meru, Namib Desert Peaks, The Ethiopian Highlands, Mount Kenya, Mount Elgon, The Atlas, Mulanje, Ol Doinyo Lengai, Virunga Volcanoes, Tsodilo Hills, and Ukhalamba-Drakensberg.
Souchon has sought peaks and adventure for the past 16 years. He has traveled across Africa and visited some of the continent's highest mountains. His previous book, Serpent Spires, discussed mountaineering in the Ukhalamba-Drakensberg mountains.
*Photo: International Publishers Marketing
---
Click here to buy Mountains of Africa
---