Beaumont House is in a residential area on the outskirts of Cape Town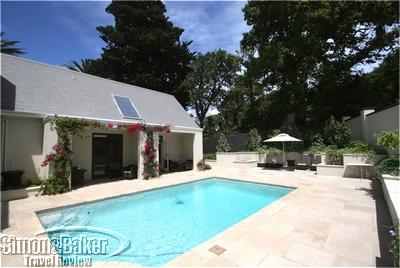 The pool at Beaumont House
On our team's last visit to the Cape Town area they discovered a five room property that shone for its luxury features, sophisticated international clientèle and foodie orientation. The lovingly restored historic home sparkled with thoughtful touches including beautiful landscaping, WiFi Internet access, a fabulous breakfast, and an honor bar well stocked with wines from the region.
"This was always our dream when Peter retired," said Gill Deering, one of the owners and managers who dedicated countless hours to the refurbishment of the house.
The entrance hallway at Beaumont House
"It's all about managing people's expectations. And, I'm and bit of a foodie. We try to provide an opportunity for guests to indulge," said Peter Deering, an enthusiastic wine lover who co-manages the property with his wife Gill.
Peter Deering is also the property's concierge, procuring restaurant reservations, personalized city tours, and winery tours with ease and vicarious pleasure. Click here to read our dedicated feature on Beaumont House.