By Elena del Valle
Baking and photos by Gary Cox*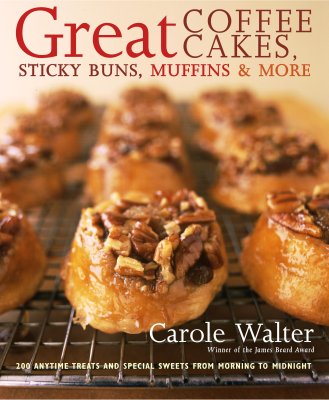 Great Coffee Cakes, Sticky Buns, Muffins & More book cover
On a recent Sunday morning, I had yummy, gooey, melt-in-your mouth miniature sticky buns for brunch at home. A week later the next batch was even better. The secret to these fabulous treats was a new book, Great Coffee Cakes, Sticky Buns, Muffins & More 200 Anytime Treats and Special Sweets from Morning to Midnight (Clarkson Potter Publishers; $35.00) by Carole Walter.
What makes the book special is the author's vast experience, the recipes she shares and the way in which she wrote and organized the book. Great Coffee Cakes, Sticky Buns, Muffins & More is divided into chapters by topic and includes useful tips for each type of recipe. The step by step detailed instructions have the potential to inspire confidence and guide novice and veteran, professional and amateur bakers alike to produce professional quality delectable sticky buns and tasty baked goods at home.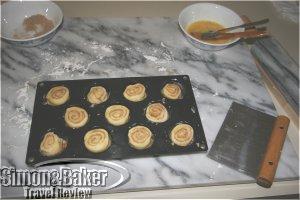 Our miniature sticky buns right before they went in the oven
Sticky buns from the first batch Gary made
The hardcover 408-page book features recipes for pound cakes, coffee cakes, muffins, quick breads, scones, sweet biscuits, Bundt cakes, and babkas. In addition to the recipes, there are two sections of full page color photos. Part of the book's appeal is the At-a-Glance boxes which outline baking pan sizes, oven temperatures, baking times, and any special equipment needed. Walter, a James Beard Award Winner, also shared extensive general information on outfitting home kitchens for baking, common ingredients, and techniques.
Author Carole Walter
"Baking is a wonderful activity, it's a relaxing outlet from daily stress, a project to share with kids, it's fun, and best of all, the rewards make everyone smile," said Walter, a baking teacher and author, authored two baking books before this one. "When the weather is cold, there is no place I would rather be than in my warm, cozy kitchen with something delicious baking in the oven."
Great Coffee Cakes, Sticky Buns, Muffins & More has nine chapters: Perfect Pound Cakes; Home-style Coffee Cakes; Muffins and Quick Breads; Biscuits and Scones; Easy Does It Yeasted Coffee Cakes; Brioche, Croissants and Danish; Strudel: Then and Now;  Coffee Break Bites; and Streusels, Glazes, Frostings and Spreads.
Some of the recipes included: Plum-Topped Pound Cake Squares, Brown Butter Almond Cake with Stewed Fruit, Sour Cream Marble Cake, Chocolate Chip Scones, Sweet Potato Drop Biscuits, Nut Crusted Rugelach, Crumb Topped Whole Wheat Peach Muffins, Double Chocolate Walnut Babka, Apple Walnut Strudel, Holiday Stollen, and Brioche Buns with Dried Pears and Camembert.
The other recipe we tried was for Powdered Sugar Pound Cake and the results were less than stellar. The sticky buns were so delicious we think the book holds much promise and plan to keep sampling recipes.
With more than 20 years of teaching experience, Walter seems able to anticipate many of the questions that come up during the baking process. Walter has studied with renowned pastry chefs in the United States, France, Austria, Italy, and Denmark and has taught baking classes for more than twenty years at places such as Sur la Table and Williams-Sonoma. She is a Certified Professional and charter member of the International Association of Culinary Professionals (IACP) with 15 years service to culinary scholarships. She is a past president of the New York Association of Cooking Teachers, and a founding member of The Bakers Dozen East.
*Book and author photos courtesy of Clarkson Potter Publishers
---
Click here to buy Great Coffee Cakes, Sticky Buns, Muffins & More
---