Photos and article by Josette King, in cooperation with Lee Fuller, oenophile and wine collector
Baron Philippe de Rothschild, Mouton Cadet, Bordeaux 2004
A few years ago, as we were planning our family Thanksgiving dinner, my wine enthusiast son Lee Fuller declared himself unwilling to serve the usual obvious whites with the traditional turkey. He volunteered to lead the reform by arranging a tasting, a few days prior to the gathering, of five moderately priced wines to vie for an appearance on our holiday table. During the event, we first tasted (and expectorated) each wine on its own and later sampled each one in turn with tiny portions of food. A lively evening of discussion followed and a holiday tradition was born!
Our most recent tasting took place a few days before Christmas. I was entrusted with the choice of wines. Mine was an impulsive selection of French wines, guided more by memories of my Paris youth than considerations of what would best compliment our Christmas Eve raclette or the roasted leg of lamb and Bûche de Noël on our Christmas Day menu.
---
---
I adhered to our basic tenet: five wines, moderately priced (under $25). I chose one sparkling wine, one white, two reds and a sweet red dessert wine: Lucien Albrecht Crémant d'Alsace Brut Rosé, Domaine Fournier Sancerre Sauvignon Blanc 2005, Marc Kreydenweiss Domaine des Perrières Costières de Nîmes 2003, Baron Philippe de Rothschild Mouton Cadet 2004, and M. Chapoutier Banyuls Grenache Noir 2004. Here are our findings:
Lucien Albrecht, Crémant d'Alsace Brut Rosé (sparkling – non-vintage)
Approximate retail price: $19.99
Since we especially enjoy brut sparkling wines as an aperitif, we started with a Crémant d'Alsace Brut Rosé, non-vintage, from Lucien Albrecht (crémant is the official appellation that designates French sparkling wines produced outside the Champagne region). With its tiny bubbles and lovely peach color, this luscious sparkler looked and tasted much more expensive that it actually was!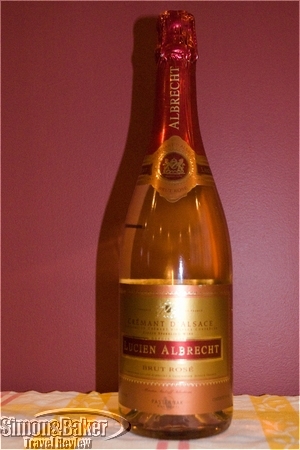 Lucien Albrecht, Crémant d'Alsace Brut Rosé
Made from 100 percent pinot noir, its aroma was dominated by red berries with a hint of rose petal. On the palate, it generously released raspberry, strawberry and red currant flavors. We unanimously loved this crisp and elegant wine as a starter to our evening, alone and with light hors d'oeuvres. One minor caveat: we tried it again at the end of the evening and found that it didn't stand up well to our chocolate dessert.
Domaine Fournier, Sancerre, Sauvignon Blanc 2005
Approximate retail price: $19.99
I have always been fond of Loire Valley whites, especially Sancerre. Therefore, this was an easy selection, since Domaine Fournier is known as one of the most important estates in the Sancerre region. Made of 100 percent sauvignon blanc grapes, this lively, pale 2005 Sancerre opened with a pleasant citrus aroma that developed on the palate as a lemon and grapefruit taste with undertones of green apple. Its dry, clean finish lingered nicely.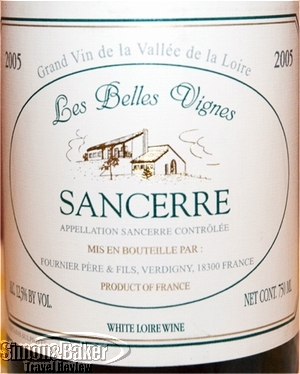 Domaine Fournier, Sancerre, Sauvignon Blanc 2005
We unanimously declared it an excellent aperitif candidate. We also enjoyed it with fresh goat cheese, and with seafood. Later that week, we found it went well with pasta in a cream and herb sauce. This is another refreshing, fruity wine that I will definitely enjoy serving throughout the year!
Marc Kreydenweiss, Domaine des Perrières, Costières de Nîmes 2003
Approximate retail price: $13
I was intrigued by this wine because of its biodynamic status. Biodynamism is a combination of organic winemaking and sustainable agriculture that adopts the use of organic fertilizers, the elimination of chemical pesticides and herbicides, and other health-conscious practices for the protection of the ecosystem. In Alsace, the Kreydenweiss estate has been in existence for over three and a half centuries. The current owner Marc Kreydenwiess completed the conversion of the entire estate to biodynamic culture in 1990. He applied the same principles to his Domaine des Perrières as soon as he purchased it in 1999. 
Marc Kreydenweiss, Domaine des Perrières, Costières de Nîmes 2003
The 2003 Perrières we sampled was an earthy red Rhone blend of cardigan, grenache and syrah, deep ruby in color, with an aroma of red fruit, spices and a hint of oak. The palate was a bit tart for a red, spicy and somewhat tannic. I detected a touch of licorice in the finish, an issue for me as I dislike that taste. However, Lee our experienced oenophile immediately identified the mellow presence of grenache and a hint of vanilla. He declared the 2003 Costières de Nîmes, Domaine des Perrières a good candidate for summer drinking on its own, with cob salad or grilled meat. N.B.: We decanted this red 30 minutes before tasting.
Baron Philippe de Rothschild, Mouton Cadet, Bordeaux 2004
Approximate retail price: $8.99
In my younger decades, the Rothschild Mouton Cadet was my reliable red stock Bordeaux. This broad distribution wine from France had the advantage of being always available, of predictable quality and affordable. I couldn't remember when I drank it last, so I decided to give it another try. As we uncorked it I detected a faint musty smell to it. However, after we decanted it for 30 minutes it opened up to reveal a pleasing earthiness and a flavor of dark berries with notes of cassis. This blend of 65 percent merlot, 20 percent cabernet sauvignon and 15 percent cabernet franc was deep red in color, with just enough authority that we knew we were drinking red wine. Yet it was simple enough that it transferred well between different appetizers. It also worked successfully with a cheese tray but did not hold up to red meat. We will keep in mind for large casual gatherings.
M. Chapoutier, Banyuls, Grenache Noir 2004
Approximate retail price: $25 for a 50cl bottle.
To me, Banyuls will forever evoke childhood memories of a small vacation town on the western Mediterranean coast, where France touches Spain, with the foothills of the Pyrenees as a backdrop; and the rich, sweet, dark wine of the same name. I remembered it as a Port-like nectar ubiquitously served as an aperitif and dessert wine.
M. Chapoutier, Banyuls, Grenache Noir 2004
We tasted the Chapoutier Banyuls Grenache Noir 2004 at dessert time. Made of 100 percent grenache noir, it was deep garnet in color, with aromas of dried fruit and candied citrus. The palate was creamy and sweet, with rich undertones of cherries and chocolate. We enjoyed it on successive occasions with Roquefort cheese and chocolate desserts, as well as on its own for after-dinner sipping.
While our original tasting intent was to focus on wines for our holiday table, we are delighted to have discovered an assortment of wines we will enjoy on multiple occasions throughout the year.