Photo by Gary Cox and article by Elena del Valle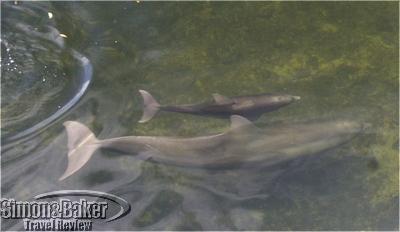 A mom dolphin and her newborn swimming at Dolphins Plus
Our first close encounter with Dolphins was a success. As much as I prefer to see animals in the wild whenever possible, there are times when animals born in captivity, born with a disability or for other reasons unable to survive and thrive in the wild are better off in a facility. 
There are rescue centers and facilities that provide shelter for such animals and serve as a place for people to learn and appreciate the members of the animal kingdom. An example is De Wilt Cheetah and Wildlife Centre in South Africa, known as the home of the first cheetahs born in captivity. Dolphins Plus is a similar facility for a small group of dolphins and two sea lions.
At Dolphins Plus we had an opportunity to interact close up with their dolphins. Their activities provided both types of mammals an enriching experience. Some of the characteristics that set this family owned dolphin center apart were:
Small groups of visitors

Affable and knowledgeable staff members who shared information about the dolphins and sea lions before the encounters

An attractive and well run facility that emphasized the well being of the dolphins and a pleasant experience for visitors

Natural swim options, a personal favorite, in which the dolphins choose whether and how much interaction they have with visitors
Click here to see more photos and read our article on Dolphins Plus.