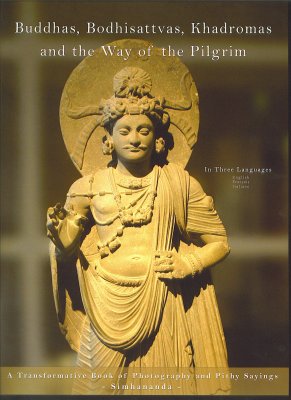 Buddhas, Bodhisattvas, Khadromas and the Way of the Pilgrim cover
In a recently published photo book, Buddhas, Bodhisattvas, Khadromas and the Way of the Pilgrim: A Transformative Book of Photography and Pithy Sayings (Orange Palm Publications, $79.95), Montreal based Simhananda, an amateur photographer, and Dadi Darshan Dharma, a book author, dedicated 224 pages to images of Buddha and Buddhism through the ages. 
Almost every page of the book features a photo. There are 100 large and 201 small images of art depicting Buddha and Buddhist art. There is a glossary in the back of the book for readers, who like us, don't know the meaning of some of the exotic words used in the book. Bodhisattva, for example, means a Buddha who has unselfishly given up his liberation temporarily to help mankind.
The hardcover book allows armchair travelers, Buddhists and spiritual enthusiasts to view art depicting Buddha from the comfort of their homes. Each page includes one or more photos and short sayings, in English, French and Italian, intended to be inspirational, spiritually uplifting and sometimes humorous. Although we couldn't find any descriptions of the photos, when or where they were taken in the book, they capture crisp, blurry, stunning, striking, and colorful images set next to short inspirational words. The combination of the words and images is designed to further the author's desire to "help elevate the mind toward the Divine" and to console and comfort worldwide suffering and death.
Simhananda, which means lion's roaring, only appears in silhouette in the book and is described in promotional materials as a private man. He recently produced four calendars and is working on another photography book about nature. He also authored a book on Zen Buddhism. Dadi Darshan Dharma, also in silhouette and a resident of Canada, authored several books on spirituality including Paradisal Plums from which the sayings in Bodhisattvas, Khadromas and the Way of the Pilgrim were reproduced.
---
Click here to buy Buddhas, Bodhisattvas, Khadromas and the Way of the Pilgrim
---