Article and photos by Josette King
 Chongwe River Camp where the Chongwe and Zambezi rivers meet
After an exciting visit to the South Luangwa National Park in the fall of 2006, I returned to Zambia last year. In the Luangwa Valley, particularly lush in 2007 after experiencing intense seasonal flooding in January and February, I especially enjoyed Nkwali, the flagship camp of Robin Pope Safaris.
Hippos enjoyed the morning sun by their waterhole near Nkwali
Located on a prime vantage point on the east bank of the Luangwa River, Nkwali coupled the casual atmosphere and intimate proximity to wildlife that only a bush camp can provide with the indulgent amenities of the best safari lodges. From there, I traveled deep into the park to Luwi. This remote seasonal camp of reed and thatch huts offered a rare opportunity to experience one of the last traditional bush camps as envisioned by the renowned late conservationist and guide Norman Carr.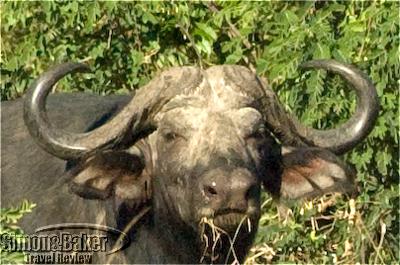 Cape buffalos throve in the Lower Zambezi National Park
I went on to explore the Lower Zambezi National Park. Established in 1983, it is the most recent of country's national parks. Although still relatively underdeveloped, this stretch of wilderness is wedged between the Zambezi River and the Zambezi Escarpment; a privileged location that offers remarkably picturesque scenery and an amazing concentration of wildlife along its 120 kilometers of river frontage.
An elephant emerged from the Zambezi at Sausage Tree Camp
The river bank is home to several highly reputed wilderness camps and lodges, including the Chongwe River Camp, with its panoramic view of the confluence of the Chongwe River and the Zambezi rivers; the Chiawa Camp blended so unobtrusively into its surroundings that elephants and buffalos routinely paraded within feet of the tents on their way to the river; and the whimsical Sausage Tree Camp with its pristine conical Bedouin tents peering through the riverine forest canopy at the scenic entrance of the Chifungulu Channel.
A lioness
My journey concluded with a visit around Victoria Falls, where I experienced first-hand the award-winning accommodations and hospitality of Tongabezi, as well as the stunning architecture and sweeping vistas of the recently opened Stanley Safari Lodge.
Are you thinking of traveling to Zambia? Click on the following hyperlinks to read dedicated articles on Zambia destinations and properties visited by Simon & Baker travel teams Zambia, Lower Zambezi National Park, South Luangwa National Park, Chiawa Camp, Chongwe River Camp, Luwi, Nkwali, Sausage Tree Camp, Stanley Safari Lodge and Tongabezi.