Complete Baking Cookbook
Have you been looking for a gift for that someone special in your life who loves to cook or bake? Does he or she have all the gadgets and classic cookbooks? Consider a newly published selection of old favorites; holiday recipes or a completely novel cooking style like safari dishes or modern Indian food to spice up their life.
For baking enthusiasts, the Complete Baking Cookbook (Robert Rose, $24.95) published October 2007, features 350 recipes, from cookies and cakes to muffins and pies. Written by George Geary, a baker and pastry chef, the 448-page soft cover book includes illustrations and color photos. Each recipe also lists tips and variation options. After the introduction about electric equipment, hand tools, baking pans, and common ingredients, the book is divided into sections on Cookies, Bars and Squares; Pies, Tarts and Cobblers Cakes; Frostings, Glazes and More; Confections; Grand Finales, Breakfast Breads; and Holiday Favorites.
A Passion for Baking 
The 320-page hardcover A Passion for Baking  (Oxmoor House, $29.95) by Marcy Goldman, a pastry chef and home baker, has 220 recipes and many color photos. Following introductory and baking secrets sections, the book is divided into: Loaves, Large & Small; Rolls, Baby Breads & Buns; Pizza & Other Flatbreads; Scones & Biscuits; The Muffin Shoppe; The Cookie Jar; The Biscotti Bakery; Bars & Squares; Quick Breads & Coffee Cakes; Pies, Tarts & Pastries; Sweet Yeast Baking; Cake Creations; Say Cheesecake; Holiday Baking; Grainy Goodness; and Baker in a Hurry.
Holiday Entertaining
Williams-Sonoma 286-page hardcover Holiday Entertaining (Oxmoor House, $34.95) has recipes by Georgeann Brennan and drink recipes by Jordan Mackay. Filled with color photos, the book is divided into Occasions, Thanksgiving, Christmas and New Year's; and Recipes: Drinks, Hors d-Oeuvres, Soups & Salads, Mains, Sides, Desserts, Breakfast and Gifts from the Kitchen.
For those looking for something off the beaten cooking path, we recently discovered two intriguing titles, A Kitchen Safari: Stories & Recipes From the African Wilderness (Struik, $29.95) and Modern Indian Cooking, (Silverback Books, $29.95). Modern Indian Cooking was published August 2007. A Kitchen Safari was first published in 2004 and republished July 2007.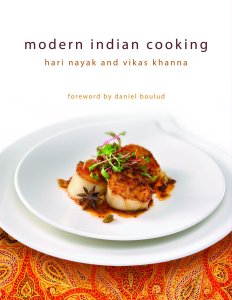 In the 191-page hardcover Modern Indian Cooking with foreword by Daniel Boulud, Hari Nayak and Vikas Khanna promise easy and quick to prepare recipes, and invite the reader to experiment and substitute ingredients for their own favorites. A brief introduction leads to Appetizers, Soups and Salads, Vegetables, Beans and Legumes, Rice, Poultry, Meat, Seafood, Breads and Desserts, Drinks and Accompaniments sections. A list of ingredients, brief instructions and colorful photos motivate eager cooks to begin their journey of culinary experimentation.
Recipes examples include Orange Chicken with Soy Ginger Reduction, Crispy Pan Fried Shrimp with Tamarind Glaze, Stir Fried Potatoes and Green Beans with Mint, and Duck Vindaloo. For the sweet tooth there is Pure Almond Milk Fudge and Valhorna Chocolate Burgi with Toasted Coconut.
A Kitchen Safari: Stories & Recipes From the African Wilderness
The not-your-grandmother's-cooking (with rare exceptions) collection of stories and recipes from the African bush can fuel a cook's wanderlust. The 192-page hardcover book is filled with colorful animal photographs and recipes from Conservation Corporation Africa properties.  It is the work of CCA food leader Ivonne Short and Dumi Ndloou, head chef, Ngala Private Game Reserve.
Although some items like springbok (Smoked Springbok Carpaccio with Summer Greens) and Zambezi lager (Beer Bread) may be hard to find at your local grocery store, most of the ingredients listed are more common. Mouth watering names (and large color photos) like Tomato, Tamarind and Ginger Soup, Three Cheese Bread and Butter Pudding, Chocolate Pan Soufflé with Orange and Mint may inspire the adventurous chef.
---
To purchase click on the title of your choice 
The Complete Baking Cookbook
A Passion for Baking
Williams-Sonoma Holiday Entertaining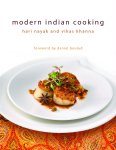 Modern Indian Cooking
---