Article and photos by Elena del Valle
A week of road travel in off the beaten path South Dakota just as spring was warming in early June left an impression. Although with only 780,000 residents the state is sparsely populated we never felt lonely. As we made our way across South Dakota, small towns that were just dots on the state map blossomed into state parks, historic and Native American sites, and popular attractions such as the town of Deadwood. We also took time to visit the world famous Mt. Rushmore National Monument and Crazy Horse Memorial.
Striking scenery, unspoiled and uncrowded attractions, welcoming residents and affordable prices made South Dakota noteworthy. In our whirlwind weeklong trek we drove east to west starting in the state's most populated city, Sioux Falls, and departing from Rapid City on the western border near the Black Hills. On our way, we spotted ring neck pheasant, turkey, prairie dogs, mule deer (including a female with triplets), prong horn antelope, wild horses, peafowl, and bison.
We stopped in Watertown, home of the lovingly restored historic Mellette House, where the first governor of South Dakota resided; and the Redlin Art Center, an ode to Terry Redlin, oil painter and Watertown native. We were fortunate to arrive at the Sisseton State Park during the closing day of the fort's annual historical festival, a potpourri of historic and military reenactments, American Indian dancers, music and western products for sale.
The following morning found us in the town of DeSmet enjoying a guided tour of author Laura Ingalls Wilder's restored Victorian house; and the nearby Laura Ingalls Wilder Homestead, a former working farm converted into a popular tourist attraction, where we had a glimpse of life in the old west.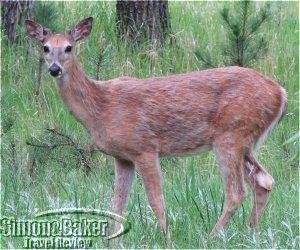 We spent the night in Pierre (pronounced "peer"), the state capital, where the weather was picture perfect. During our stay, we explored the interesting Cultural Heritage Center, and enjoyed an outstanding sunset boat ride on the Missouri River. From Pierre we drove west to the Badlands National Park. En route we enjoyed a brief visit at Wall Drug Store, home to an art collection, various shops, attractions, fudge factory, ice cream shop, restaurant and bookstore all under one management.
We stopped at the Pine Ridge Indian Reservation where we visited the Lakota Sioux Heritage Culture Center Complex. We also had an opportunity to chat with local residents Emerson and Jerilyn Elk, owners of Cankpé-Opí Crafts, who showed off their bead artwork and shared insights about the Wounded Knee Massacre.
We arrived at Hot Springs in the Black Hills in time for a hearty dinner. The following morning we visited the nearby Wild Horse Sanctuary, home to more than 500 wild horses, on our way to the famous Wind Cave National Park, the fourth longest caves in the world set below 28,000 acres of prairie and pine forest. We spent that night at the cozy and delightful French Creek Ranch bed and breakfast – a favorite.
Before turning in for the evening we visited the Crazy Horse monument, a work in progress for the last 50 years and going strong. The following day, we braved windy and cold weather, to enjoy a brief stop at Mount Rushmore National Monument. On our way to Rapid City, we went to see the handsome bronze sculptures at Kevin Costner's Tatanka Story of the Bison attraction before stopping for a yummy lunch at the Latchstring Inn in Spearfish Canyon. We flew home the following morning reminiscing about a week that began with gentle and green scenery along sleepy towns and ended with the conspicuous Black Hills and stories of Wild Bill Hickok and Calamity Jane.