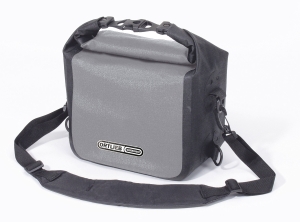 Ortlieb Aqua Cam waterproof camera case
Photos courtesy of Ortlieb USA
For the past year we have taken the Ortlieb Aqua Cam waterproof camera case with harness straps on travels near and far. It has gone with us to California, France, the Caribbean, and Africa; to urban, suburban, and safari destinations – even a rain forest – and performed admirably.
Our medium case (6.7 x 8.7 inches) has 275 cubic inches of space and weighs 15.2 ounces.  It is waterproof and dustproof. We took it into the bush where we were enveloped in clouds of dust on a number of ocassions and rained on more times that we care to remember. 
We like the Quickseal closure and Roll 'n Snap feature. Although the manufacturer says you can use the Roll 'n Snap strap to carry the case, we find it is prone to snapping open unexpectedly when we do that. The adjustable padded shoulder is comfortable. The interior pads are easy to adjust and protect the camera from bumps and bruises. After all the trips its been on its none the worse for wear.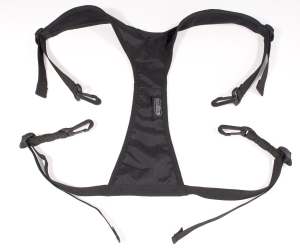 Camera case harness
The harness has been especially practical on game viewing outings, during bumpy drives, and long walks in the bush and rain forest. It stablelizes the camera case and leaves our hands free to shoot pictures or lean on a walking stick. 
Founded in 1982, Ortlieb produces and distributes waterproof outdoor equipment, in particular panniers, office bags, backpacks, messenger bags, drybags and stuffsacks, motorcycle packs, camera bags, document bags and map cases, water-bags and water-sacks, folding bowls, first-aid-kits, money belts, valuable bags and mobile phone cases.
Ortlieb uses predominantly tear and abrasion resistant nylon, polyester and Cordura fabrics and PU-foils. Their waterproof products are exclusively manufactured at their production site in Heilsbronn, Germany using a high-frequency welding procedure.
They supply national specialty retailers in the bike, outdoor, trekking and expedition, motorcycle and paddlesport markets. Ortlieb also exports from their production site in Germany into 22 countries with authorized distributors. The largest export countries are Switzerland, the Benelux, United Kingdom and Japan as well as the U.S. with their own subsidiary.