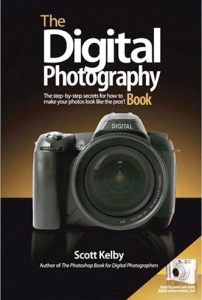 The Digital Photography Book cover
The Digital Photography Book: The Step-by-Step Secrets For How to Make Your Photos Look Like the Pros (Peachpit Press, $19.99) by Scott Kelby offers a useful series of one-page vignettes organized by category. It is a quick read and helpful tool for photographers wishing to address specific challenges like taking sunset or wildlife photos, landscape, forest or people shots, etc. It's designed in a series of approximately 200 short articles particularly handy for someone who already is familiar with digital photography. It is written in an easy to read style with minimum technical jargon, practical advice and a sense of humour.
According to Kelby, The Digital Photography Book is all about "sharing the pro's secrets about how to get dramatically better-looking photos every time without having to learn all the technical things about photography or your digital camera."
Author Scott Kelby
"It's not the camera that makes a shot professional, it's the user," Kelby said.  "The pros know the tricks to get great results no matter what kind of camera they use. You don't need to learn all the technical things about your camera; you just need to learn to take better photos."
Scott Kelby is editor and publisher of Photoshop User magazine, editor-in-chief of Nikon's Software User magazine, and publisher of Layers magazine, the how-to magazine for everything Adobe. Scott is president and co-founder of the National Association of Photoshop Professionals (NAPP) and president of the software training, education, and publishing firm KW Media Group.
Scott is a photographer, designer, and an award-winning author of more than 30 books, including The Photoshop Book for Digital Photographers, Photoshop Down & Dirty Tricks, Photoshop Classic Effects and is series editor for the "Killer Tips" books series from New Rider publishing.