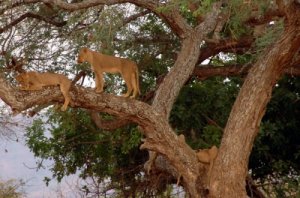 Tree-climbing lions of Chindeni
One of our team members recently returned from the South Luangwa Valley National Park, a ruggedly beautiful 3500-square-mile Eden of savannah and forest wedged in the north-eastern corner of Zambia. The park is recognized by experts as having one of the highest game densities in Africa.  According to locals, the now famous Zambian walking safari was pioneered there over half a century ago. The tradition is upheld to this day by a few of the most reputed safari operators in the country.  Josette King from the Simon & Baker Travel Review recently visited some of the intimate luxury camps, including Kuyenda, Chimalandu and Chindeni, strategically located along the Luangwa River and its tributaries, and discovered outstanding game viewing.
When she arrived, she settled in her luxury tent raised on a wooden deck overlooking a permanent lagoon at Chindeni, with expectations of abundant wildlife. What she couldn't have anticipated was a sight so unusual that it startled even James Chabbuka, the group's seasoned and otherwise unflappable guide. During the group's first late afternoon excursion near the camp, they came across a pride of lions sprawled high in the branches of a huge winter thorn tree.  They were obviously enjoying their nap in the refreshing breeze of the tree tops! Visit these pages and the Simon & Baker Travel Review soon for more about the wonders of South Luangwa Valley walking safaris, including the tree-climbing lions of Chindeni.  Click here to read other articles on Zambia.