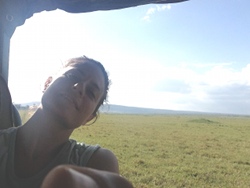 Margot has loved traveling since she was a child in the backseat of a Datsun station wagon. The thrill of being on the move and exploring new places has never left her. She has traveled personally and professionally all over the globe, including recent trips to Kenya, Colombia and Brazil. Put her in a new city, on a deserted beach, at the foot of a mountain or in a small town and her heart will fill with excitement and adventure.
Raised by a writer and a painter, the fusion of images and written words has filled her head from day one. Margot has worked as a writer in the academic and non-profit worlds, and has her own creative writing practice. Her love of storytelling led her to her current work as a design strategist in New York City where creates creative brand strategy for some of the world's biggest brands. She graduated with a masters degree in Education from Harvard University, and has helped build non-profit organizations from the ground up.
Margot currently lives in Brooklyn, New York with her husband and a family of tomato plants. In the future she hopes to travel as much as possible and discover more of the world's great delights.