By Laura Scheiber
Photos by Matthew Harris
I don't know why I find it so much more enjoyable to read from my Kindle than from a print book, but I do. I resisted. I really did, advocating for the joys of a good ol' fashioned book. And then everything changed when I got a Kindle as a Christmas present. Perhaps I am still in the honeymoon stage, but I don't foresee going back to traditional books any time soon.
The Kindle, commonly referred to an e-reader or e-book, offers a portable digital replacement for print books. The screen displays one page at a time and it looks so authentic that I sometimes forget that it is not a paperback. Contrary to print books, there are buttons on the left and right-hand sides of the Kindle, allowing the reader to turn the page at the click of a button.
In general I have found the interface to be very intuitive. The menu button directs you to the Kindle store among other options, while the home button lists your personal library. The Kindle store has over 800,000 books to choose from. I like that you can sample a chapter of a book before purchasing it. This e-reader is set up so that whenever I purchase a new book, it is charged directly out of my Amazon account. My Kindle has the capacity to hold over 3,000 books and it takes approximately 60 seconds to download one book.
So far I have been impressed with the battery life. I tend to charge my Kindle about every three weeks. Battery life varies depending on the reader because electricity is only needed when turning pages (assuming the wireless feature is turned off). Since the battery life of the Kindle lasts longer with the wireless feature turned off, I only connect to the Web when shopping for new books. It takes three hours to fully charge my Kindle.
For anyone like me who loves to travel, the greatest advantage of this e-reader is having access to a bunch of books without the burden of carrying them.
My Kindle (with leather cover) weighs roughly the same as a 300-page paperback. It fits easily into a carry-on bag or purse. The dimensions measure at 7.5″ x 4.8″ x 0.335" with a 6-inch diagonal. It is about as thick as a pencil and as wide and long as a large postcard. Users who have a travel companion who also has a Kindle, can sync their accounts so that both parties have access to the same books. I foresee my Kindle being particularly useful when traveling to international places where books in English are hard to come by.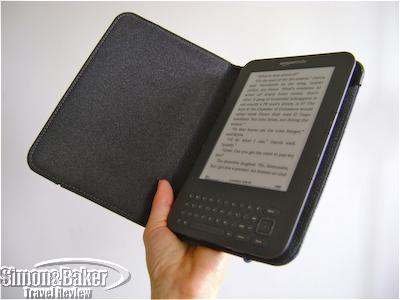 While there is an English dictionary installed for free, there are no translation tools. I hope this is a feature they will add in the future because it would be useful while traveling overseas. One downside of the Kindle when traveling by plane is that all electronic devices must be turned off during take-off and landing, including e-readers.
There are two options of the latest 6-inch Kindle model. The Kindle 3G + Wi-Fi costs $189 and offers wireless Internet coverage in over 100 countries. I opted for the $139 model which does not have this international wireless feature. However, I download books at home prior to traveling and this has worked out very well.
I like the Kindle lighted leather cover, which is sold separately at $59.99. It not only protects my e-reader, but it also has a pullout light in the upper-right hand corner. I love this feature at nighttime because I don't have to get out of bed to turn off the lights when it is time to sleep.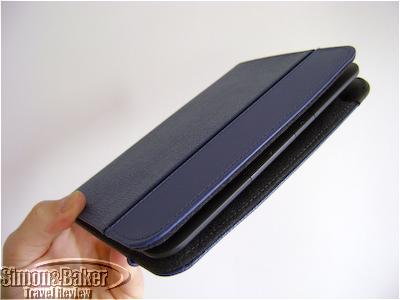 While overall the device does a great job of imitating a print book, I initially found it odd that the Kindle does not display page numbers. Instead it exhibits how far, percentage-wise, I am into the book. This alternative to page numbers has to do with the fact that it is possible to change the font size. As such, it is impossible to list page numbers that consistently reflect the printed version. My only real gripe about the Kindle is that every once in awhile it loses my page number and I have to click through the chapters to find where I had previously stopped reading. Luckily this has only happened twice.
All in all, I love my Kindle Wi-Fi 6" and would absolutely recommend it to others, especially those who love to read while traveling.