Article and photos by Josette King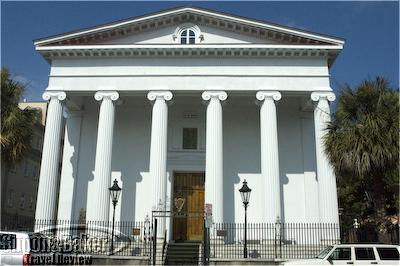 Hibernian Hall
When it comes to romantic impact, few American cities can rival Charleston, South Carolina. This legendary Southern Belle beguiled me at first glance with the charm of her superbly preserved Historic Downtown District and its timeless gracious hospitality. History and tradition were alive at every turn along the oak-shaded streets lined with regal colonial mansions, majestic churches and public buildings that spoke of a bygone Gilded Age.
My pace slowed to antebellum languor as I meandered around cobblestone alleys, randomly discovering some of the 3,000 historic sites, buildings and museums scattered around the almost two-square mile historic downtown. A one-mile stretch of Meeting Street alone, known as Museum Mile, boasted six museums, five major historic houses, ten places of worship and six historic buildings!
While one of the best ways to explore Charleston was on foot, I couldn't resist the romance of an old fashioned carriage ride to The Battery at the southern tip of the peninsula, where the Cooper River meets the harbor. The one-hour, thirty block ride took me on a journey back in time to some of the most picturesque areas of the city, past the pastel-colored 18th century Georgian townhouses of Rainbow Row to East Battery Street with its line of towering waterfront mansions ranging in styles from Italian Renaissance to Art Deco.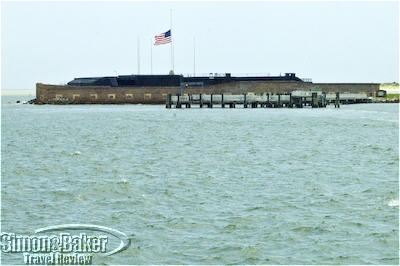 Fort Sumter
I then enjoyed a different perspective of the spectacular Charleston shoreline during my boat excursion to Fort Sumter, where the Civil War began when Confederate artillery fired on the federal fort on April 12, 1861. Built on a man-made shoal near the inlet to the harbor, the Fort was reduced to rubble during the Civil War. It is now a national monument accessible only by tour boats.
With all this running around on land and sea, I worked out an appetite that constantly had me ready to visit one of the many reputed local restaurant for their scrumptious Low Country specialties rich in shrimps, crabs, oysters and fish freshly harvested off-shore.
There was so much to experience in the endlessly seductive city that my four-day visit felt woefully inadequate to enjoy it all. However, it was sufficient to convince me that I would return to at the first opportunity. Click here for a dedicated feature on Charleston.