Article and photos by Joachim Castellano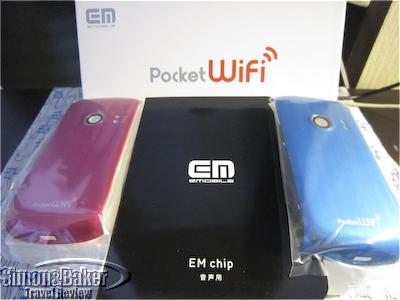 The Emobile Pocket WiFi-S package and covers
The Emobile Pocket WiFi-S (model number S31-HW) is a versatile Android-enabled smartphone that stands out thanks to a superb feature: with a touch of a button the user can create a personal Wi-Fi hotspot. In Japan, the only place where it was available when I tested it for 42 days, locating public Wi-Fi can be very difficult. Having my own Wi-Fi means I never have to worry about finding a wireless network that connects with my laptop, iPad, or gaming device. I can connect up to five different gadgets simultaneously.
In practice the wireless performance of this 105 gram phone manufactured by Huawei Technologies of China and distributed by Emobile of Japan wasn't as fast as the Emobile's Wi-Fi only Pocket WiFi (D25-HW) model. At times, the plastic and glass Pocket WiFi-S' speed noticeably struggled in the slow lane; that was likely when Emobile's network traffic was particularly clogged.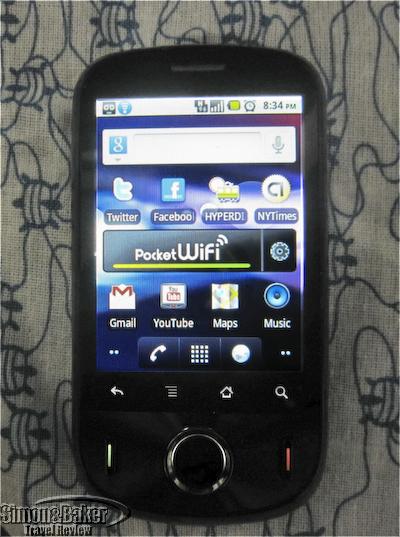 The front of the Emobile Pocket WiFi-S
What I lost in speed, however, I gained with the versatility of a full-fledged smartphone. I was able to make phone calls, browse the web, send and receive email, consume media, and navigate with GPS just like with any standard smartphone on the market. Also, because it runs Google's Android mobile operating system, I was able to download apps from the Android App Market. For example, train schedule and route apps like Hyperdia or Jorudan helped me navigate the labyrinth of Japanese rail. I downloaded one of these apps and recycled the wrinkling pocket rail guide I had been toting around.
The smartphone, 54.8 × 104 × 13.5 millimeters in size, ran Google's Android 2.2 operating system with a menu system in English and Japanese. The wireless (b/g) WiFi hotspot was capable of connecting up to five devices at HSPA 7.2Mbps down/5.8Mbps up connection speeds. It included a rear-facing 3.2 megapixel photo and video camera, 2.9 inch touchscreen, built-in speaker, 3.5 mm audio jack, Bluetooth 2.1, and had 512MB of memory with expandable memory through a microSD slot.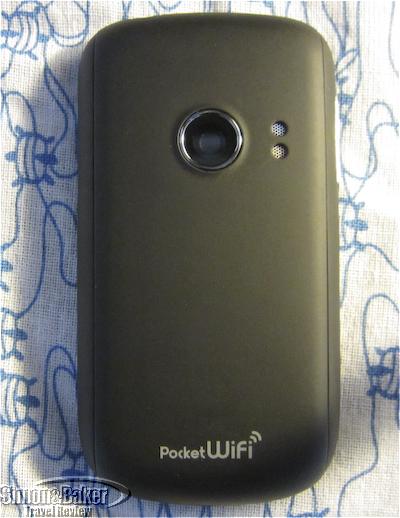 The back of the Emobile Pocket WiFi-S
The phone I tested had a battery length of five hours of talk time, four hours of standard usage, and 240 hours of standby. It came with one battery pack, AC adaptor, USB cable, microSD card, and three color covers, black, blue, and pink. The retail price was 19,800 Japanese yen ($235) as part of a two year contract, and phone and data plan costing about 8,000 Japanese yen ($95) per month.
While not as slick and graceful as its fruity and shiny rival, the Pocket WiFi-S does have that personal Wi-Fi network trick up its sleeve.