By Elena del Valle
Photos by Gary Cox*
The entrance to the Hotel Plaza Athénée
After our last visit to the Alain Ducasse restaurant at the Plaza Athénée in 2008, the famous French chef announced he was going back to basics and installed a new chef at his best known restaurant in Paris, France. While this could spell disaster or significant changes in the dining experience elsewhere on our most recent visit to the Plaza Athénée gourmet venue late last year we discovered it did nothing to mar the superlative dining experience offered at the Restaurant Alain Ducasse au Plaza Athénée.
Alba chicken with fresh white truffle
We were pleased to find favorites like the Alba truffled chicken dish and new selections like the crock pot cooked lobster. The ambiance and service were outstanding in spite of a full dining room.
Many of the dishes included a final flourish delivered at the table
When we heard they had redecorated the restaurant we expected radical changes. Instead the designers kept the classic and modern combination decor and added an artistic touch. Four large screens were covered in unique pieces of embroidery representing produce, garlic, mushroom, and artichoke.
It required a team one year to bring the embroidered screens to life from the graphic designs created by Patrick Jouin. Stefan Glass provided the expertise of the Müller workshop near Nuremberg, Germany where the pieces of satin and leather were cut with high precision machinery.

A table and one of the new embroidered screens at Restaurant Alain Ducasse au Plaza Athénée
Once that was done Sébastien Barilleau from the Cécile Henri workshop in Paris, added beads, sequins, and tubes rock pearls with the traditional Lunéville technique (the embroiderers work on the back of the piece, positioning the haberdashery by touch on the front and stitching them in place with chain stitch). The screens returned to Germany for meticulous assembly of the sections and back to Paris for completion.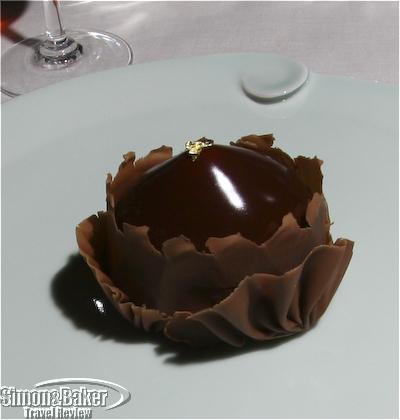 Chocolate dessert
Upholsterer Stéphane Corler positioned the silver, gold and bronze satin and leather panels with metallic blue-tinged stone and crystal embroidery on the screens. Visit the Simon & Baker Travel Review for information about Paris, fine dining and more about our December 2010 dinner at Restaurant Alain Ducasse au Plaza Athénée.
*Non watermarked photos copyright Pierre Monetta courtesy of Restaurant Alain Ducasse au Plaza Athénée