The main pool at Andara Resort and Villas
One of our team members stayed in a spacious, well furnished and well decorated rental home with a lovely bay view on the popular island of Phuket, Thailand. In spite of the punishing rainy weather the home, located within a home owners and resort property estate, with a dedicated on site staff person was comfortable and afforded many leisure creature comforts including an infinity edge pool and terrace, a game room, a fully equipped kitchen and television room.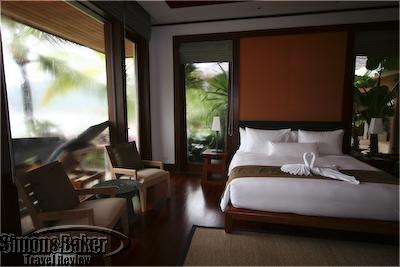 One of the bedrooms in Villa 9 at Andara Resort and Villas in Phuket
Within the resort there were concierge services and facilities including a restaurant, shops, fitness center, and swimming pool. Visit the Simon & Baker Travel Review to read about Villa 9 at Andara Resort and Villas.