Article and photos by Josette King
In New England parlance, Down East refers to the northern coast Maine from the Penobscot Bay to the Canadian border, an area famous for its rocky shore festooned with countless harbors and inlets, and for some of the best waters for sailing and boating. Located on the western shore of the Penobscot Bay, an easy three-hour drive north of Boston, the quaint little seaport of Rockland was a delightful spot to enjoy the waning days of the New England summer.
The waterfront was alive with commercial fishing and lobster boats as well as recreational sailboats, sea kayaks and canoes. Sightseeing windjammers provided a wide array of opportunities to enjoy the calm waters of the bay and explore its jagged shores punctuated by historic lighthouses. A variety of cruises was available to enjoy the spectacular vistas of the bay and experience the varied aspects of life around the bay and the rugged coastline of the Gulf of Maine. These were my most memorable: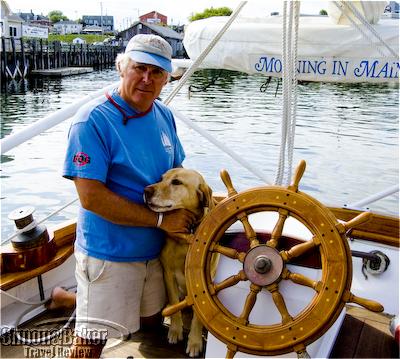 The Morning In Maine
Morning In Maine
My first sailing experience on the pristine waters of the Penobscot Bay was a cruise on Morning in Maine, the elegant 55 foot (17 meter) ketch of Captain Bob Pratt. A marine biologist formerly on the faculty of the University of Maine and the Maine Marine Academy, Captain Pratt is also a seasoned ocean sailor. He had the ketch smoothly gliding along while giving his dozen guests a thorough introduction of the wildlife and human activity around the bay; from harbor seals peering at the edge of the waves and seabirds soaring about to lobstermen checking their traps, and lighthouses standing guard on their promontories. It was two of the shortest hours I ever spent on the ocean.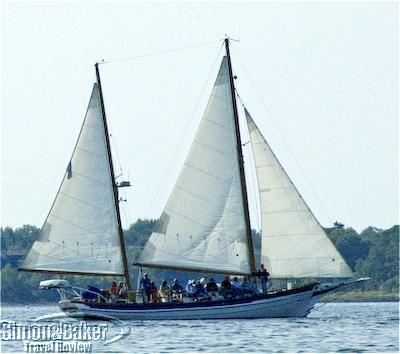 Captain Jack Lobster Boat Adventures
For another memorable sea adventure I joined veteran lobsterman Steve Hale aboard his 30 foot (nine meter) traditional lobster boat, the Captain Jack (named after Captain Steve's grandson), as he hauled his traps out of the bay. Captain Steve was a wealth of information about everything crustacean, from their life cycle to the steps necessary to ensure the preservation of the lobster stock. Each new trap was a fresh opportunity to illustrate a point. Was the lobster too small? It must be thrown back for a chance to grow some more. When in doubt, a slide rule dictated. One hefty specimen surfaced, a "keeper" for sure.
But Captain Steve showed us otherwise: this one sported a small V cut in its tail, branding her as an egg-producing female. Now she could never be kept, whether she presently had eggs or not. Another trap held a specimen that had just shed its shell. This one was lowered back in the trap, to give it time to harden a bit. One hour and a dozen keepers later, we headed back for the harbor. Again time had flown much too fast as I thoroughly enjoyed every instant of my lobstering experience.
Moneghan Boat Lines Lighthouse Cruise
Departing from Port Clyde, a small fishing village a short 30 minute drive south of Rockland, this two-and-a-half hour cruise offered a close-up view of some of the most picturesque lighthouses on the Gulf of Maine. Our ship, a 65 foot (20 meter) converted World War II model T-57 mail boat, well known in the area as the Moneghan Lines Laura B, took us past several lighthouses including the Marshall Point light, with its unique angled wood plank bridge leading a colonial style light keeper's house. Marshal Point had its minute of Hollywood fame when it briefly shared the screen with Tom Hanks in Forrest Gump.
From there we headed to the Tenants Harbor light. Built on an island at the entrance to Tenants Harbor, it was purchased in 1978 by artist Andrew Wyeth. It is now the private residence and studio of his son, artist Jamie Wyeth. We continued past the Whitehead and Owl's Head lights before heading to Two Bush Island light, a stark 42 foot (13 meter) high square tower built on a sliver of barren land ten miles from the coast.  This ocean excursion was a rare opportunity to visit otherwise inaccessible areas of the coast.
I thoroughly enjoyed my time by (and on) the sparkling waters of the Penobscot Bay. I will recommend Rockland as a mandatory destination to any friend wishing to experience the authentic essence of Down East Maine. Click here to for more on my visit to Rockland.