Article and photos by Josette King
Chef Kerry Altiero retrieves a dish from his brick oven
"I don't fancy a power struggle with my food," my friend said as I was vaunting the merits of fresh-off-the-boat and right-out-of-the-pot Maine lobster. She was a Southerner whose sole experience of The Northeast was a long ago visit to New York City. Now that I had lured her to a girlfriends' week-long vacation in Rockland, Maine, with promises of grand Victorian homes lovingly restored into luxury country inns, boating excursions to picturesque lighthouses along the craggy coast and a flourishing artistic life around the Farnsworth Art Museum and the many nearby galleries, I was not about to be stymied by a hard-shelled crustacean! "Forget lobster then. The town is full of good restaurants of all kinds," I temporized, mentally crossing my fingers. I needed not be concerned. This quaint little seaport of 10,000 residents turned out to be a treasure trove of exciting eateries.
Although they differed broadly in cuisine and atmosphere, our favorites turned out to have some significant commonalities: all were chef-owned, with high-quality menus based on locally-gown organic products and freshly harvested seafood, and moderately priced to boot. Following is information on three restaurants we liked.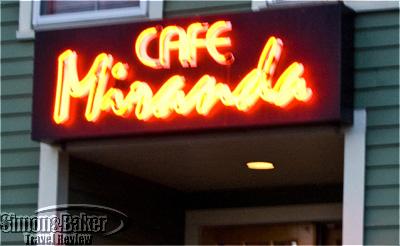 Café Miranda sign
Café Miranda
15 Oak Street
Rockland, Maine  + 1 207 594-2034
With its 85 items menu, more than a few with impossibly kitschy monikers, Café Miranda (named after Chef Kerry Altiero's beloved pooch) was not for the timorous, or the indecisive. As soon as I got past the veneer of irreverence of the menu (and the startling Elvis museum restroom) it became clear that it was not the entertainment value that had packed the place on a Tuesday night. Chef Altiero was serious about what got onto the plates: the freshest local ingredients, roasted or grilled in his kitchen's wood-burning brick oven or sautéed to perfection before being rushed to the table. Many of the offerings had their roots in comfort foods of Italy, Poland and Lithuania that young Kerry had enjoyed, growing up in the 1960's in a melting-pot community in the hills of Pennsylvania. This self-taught food artist then worked his way up the eastern seaboard, broadening his knowledge of ethnic and regional cooking along the way, to integrate it all into an imaginative culinary style that defied categorization.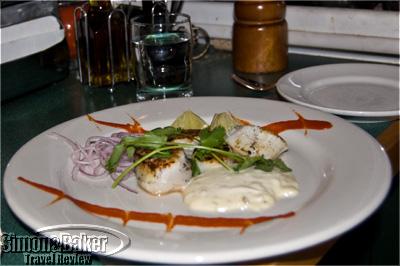 Café Miranda's Seared Sea Scallops with green chili tartare sauce
My appetizer of Seared Sea Scallops, their sweetness enhanced by the bite of a green chili tartare sauce was a delight. So was my friend's main course of herbed veal and pork Uptown Meatballs in a creamy shallot, garlic and Marsala sauce (we shared). We had reserved ahead to sit at the bar, where a handful of seats offered a full view of the frenetic action in the pocket-sized kitchen. The woman next to me volunteered that she was a long-time patron. "Did you try the "Pirogies"? She asked, tactfully nodding at her own appetizer while eyeing my main course of grilled baby tomatoes and fresh crabmeat. We exchanged forkfuls. The classic Polish potato and cheese concoction was livened up with sauerkraut and cranberries. Our respective friends got into the act and our meal became an impromptu tasting menu; every dish original and delicious. With its unpretentious, beautifully prepared food, friendly service and relaxed atmosphere, I plan to revisit Café Miranda anytime I find myself in Rockland again, and work my way down its imaginative menu.
Rustica sign
Rustica
315 Main Street
Rockland, Maine. + 1 207 594-0015
Located in one of the century-old storefronts that lined Main Street, with its aged wood floors, taupe and burgundy walls and profusion of green plants, Rustica was a cheerful, timeless eatery that welcomed its guests to lovely Italian classics. While Chef John Stowe's menu featured a few of the mandatory pizzas and pasta dishes, I happily ignored them in favor of more original offerings such as Grilled Asparagus appetizer (wrapped in prosciutto and delicately drizzled with white truffle oil and freshly grated parmesan).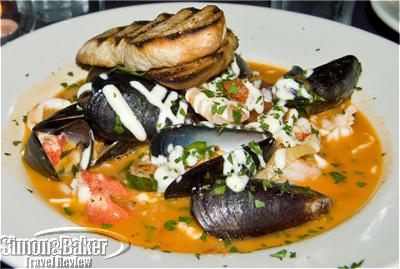 Rustica's Sicilian Fish Stew
Rustica's Tiramisu
I followed with a Sicilian Fish Stew, a symphony of roasted haddock, lobster, shrimp and calamari simmered in a tomato fennel broth with a touch of orange and saffron. It was topped with steamed mussels, served with grilled Italian bread and lemon aioli that made me forget that I was not in a Mediterranean fishing village. One look at the sinfully rich Tiramisu robbed me of the willpower to pass on dessert, although I was willing to trade a few spoonfuls of it for some of my friend's equally tempting crema brusciata (Italian for crème brûlée). Rustica did not take not take reservations, but although it was quite busy on the night of our visit, we were seated promptly. Had a wait been necessary, the sprawling bar against the back wall appeared to be a popular place to enjoy a drink while waiting for a table.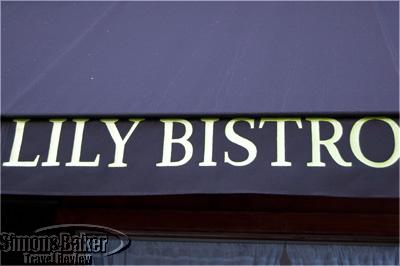 Lily Bistro sign
Lily Bistro
421 Main Street
Rockland, Maine + 1 207 594-4141
I grew up in a world were charcuterie was often home made, so any menu that boasts Charcuterie Maison as its opening line gets my attention. Lily Bistro, the recently opened brainchild of chefs Lynette Mosher and Robert Krajewski (who have been a team since they met at Johnson & Wales University in the late 1990's) was such a place; and its charcuterie plate attention-worthy. I loved the coarse pâté de campagne and smooth duck rillettes served with a wedge of artisan cheese, crisp cornichons and crusty baguette.
Lily Bistro's Chicken Grand Mere
Rockland, Maine and its Victorian country inns, Berry Manor Inn, Captain Lindsey House and LimeRock Inn.